Ajowan Seed Oil
Bishop's Weed : (Carum Copticum )
Botanical Name : Carum Copticum
Family Name : Umbelliferae
Common Name : Ajwain, Copticum, Carum Copticum, Thymol
Part Used : Fruit, Pharm Name : Fructus Ajowani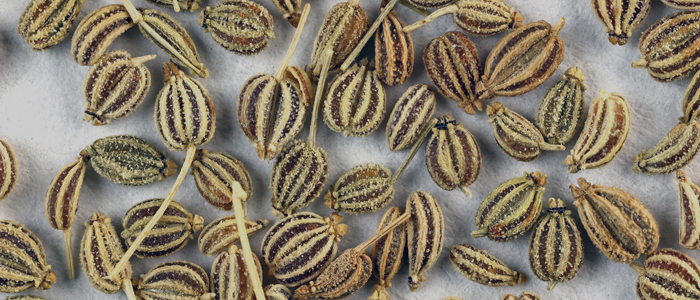 Main Constituents

The essential oil (2.5 to 5% in the dried fruits) is dominated by thymol (35 to 60%); furthermore, α-pinene, p-cymene, limonene and γ-terpinene have been found.
In the essential oil distilled from aerial parts (flowers, leaves) of ajwain grown in Algeria, however, isothymol (50%) was found to be the dominant constituent before p-cymene, thymol, limonene and γ-terpinene. Note, however, that the name isothymol is not well defined and might refer to both 2-isopropyl-4-methylphenol and 3-isopropyl-6-methylphenol (carvacrol).
Ajowan seed are being used traditionally since long back as in food preparation and medicinal usage, this belong to spices and specially in Indian dishes it has a very special honor as of turmeric. Its already being used is most of the regions bounded to Central Asia and Northern India, specially the North West (Punjab state, and Gujarat). Ajowan also enjoys fame in the Arabic countries, and is got in barbered a zest assortment of Ethiopia which both indicates Indian and Arabic inheritance.

Ajowan seed oils is important unani medicine component Ajowan also called as bishop's weed is civilized in black ground specially along the riverside end-to-end India and also in the regions of Iran, Egypt and Afghanistan. It's a little erectile bush grown throughout the year with soften hairs. It's has a lot of branches of leafy roots, little fledge like exists, four to twelve beams from blossom filled branches, each assuming six to sixteen flowers.

Ajowan has is nipping and bitterly, convulsive, antiseptic, germicidal, digestive, febrifuge, expectorator and commonly used in formulations of health tonics. Ajowan seeds have proteins, carbohydrates, fatty minerals, phosphorus, iron, carotene, thiamin, riboflavin, calcium, and niacin.

Ajowan essential oil is exacted by steam distilments of the crushed seeds of Ajowan. This is precious and well known in medicinal drug on account of the comportment known as thymic acid. The oil constitutes a nearly dulled to dark-brown watery with identifying smell and a warm taste perception. Ajwain is named omam in the southern portion of India

Ajowan Oil Ajowan is native-born to and developed intemperately in India but also refined in Iran, Egypt, Pakistan, and Afghanistan.