Almond Oil is a Cold Pressed from kernels.
it does not comes under Essential oils, but infact it is a carrier oil
Quick Facts
Botanical Name: Prunus dulcis
Family Name: Rosaceae
Common Name: Almond
Part used: Kernels
Specific Gravity: 0.910-0.915 at 25°C
Refractive Index: 1.470-1.473 at 25°C
Optical Rotation: nil
Blends Well With: Rose, Olive, almost all types of essential oils
Uses: The researchers believe that their findings will provide new insights into controlling obesity and diabetes. Sink care, This oil is best for nourishing the hair scalp, Food and salad dressings
Countries where it's found
The tree is a native to South Asia and the Middle East and is transported to the United States, southern Europe, and northern Africa.
Harvesting Information
The tree grows in hot and dry season. The nuts bloom in winter and harvested when its hull splits open.
History of the Plant
Prunus dulcis, commonly known as the almond has been cultivated for nearly 5000 years now and is Almonds are rich in oil with the highest concentration of antioxidant vitamin E. Almond oil has been an integral part of Ayurvedic medicine for more than three thousand years. The oil is clear, pale yellow, bland and an odourless liquid with a nutty taste. The oil is used cosmetic, culinary and pharmaceutical purposes.
Extraction Process
Almond oil is obtained by pressing the kernels of the almond plant. The kernels yield around 40-55 percent of the oil. The oil is rich in essential fatty acids and unsaturated fatty acids.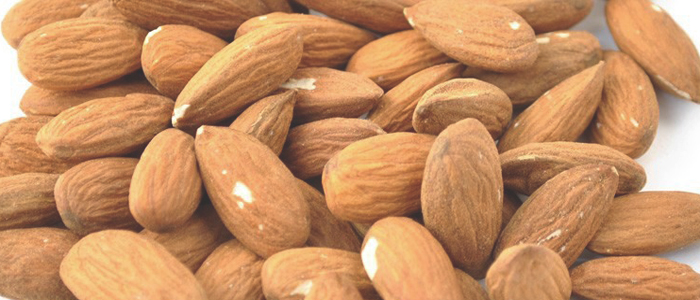 Commonly known Benefits
Skin Benefits : The oil gets absorbed easily into the skin. Being rich in vitamin E, the oil when applied tropically improves skin's water binding ability, moisturizes and cleanses the skin, acts as a lubricant for a smooth shave, makes the skin shiny and soft, and reduces water loss thereby improving the appearance of damaged and dry skin.
Health Benefits: The oil acts as a mild laxative thereby assisting in easy digestion. When ingested, it aids in proper bowel movements. While cooking, almond oil can be substituted for vegetable oil to make meals healthier. Since the oil is fat free, it reduces the risk of blood pressure. In aromatherapy, the oil has calming and cleansing effects, has pain killing properties, relieves soreness from muscles, improves intellectuality and nourishes the nervous system.
Hair Benefits: Almond oil gives extra shine to the hair and nourishes the hair scalp while soothing the cuticles. Makes the hair thick and long and controls hair fall.
Apart from the above mentioned benefits, oil of almond includes:
Delays aging
Sharpens memory eaten raw
Improves skin complexion
Acts as an effective moisturizer
Lightens dark circles under the eye
Cures chapped lips
Soothes body rashes
Soothes skin inflammation and irritation
Vitamin K in the oil improves blood clotting
A recent study conducted by researchers at the Missouri University of Science and Technology, revealed that oil derived from wild almond seeds are potential weapons in fighting obesity and diabetes. The study further revealed that the oil has the potential to affect certain abdominal microorganisms. Certain tests were conducted and the results revealed that the oil's effects improve the glucose tolerance level and insulin sensitivity in obese mice.
Almond oil played a vital role in both traditional and ancient medicines. Transcending generations, this oil have become very popular across the globe.
These statements have not been evaluated by the Food and Drug Administration. This product is not intended to diagnose, treat, cure, or prevent disease.