Quick Facts
Botanical Name: Aloe barbadensis
Family Name: Xanthorrhoeceae
Common Name: Aloe Vera
Part used: Leaves
Specific Gravity: 1.000% at 20oC
Refractive Index: 1.40% at 20oC
Optical Rotation: 0° to +10° at 20oC
Uses: Used in huge number of cosmetic products, moisturisers, face care, hair gel, helps cure acne and pimple issues. Good for digestive system, laxative
Countries where it's found
Aloe Vera or Aloe is a prickly, green succulent with origins in Africa. Aloe plant is cultivated throughout the world with naturalized strands of the species growing throughout North Africa, Sudan, and the southern half of the Arabian Peninsula. The species grows in temperate and tropical regions of Nigeria, Australia, Paraguay and the United States.
Harvesting Information
Only thicker and greener leaves of the plant are harvested. The gel is harvested from each leaf of the plant, preferably from a well grown leaf.
History of the Plant
The aloe plant is known for its legendary uses that have been passed down for generations. The plant has served human civilization for more than a thousand years and is constantly enhanced through scientific innovations. This perennial plant can grow up to sixty centimetres with long, thick and fleshy leaves.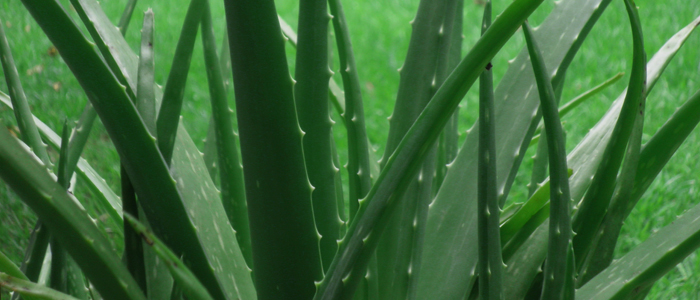 Extraction Process
The oil is obtained by pulverizing the inner fillet of the aloe plant. The sap is extracted from the leaves and macerated to obtain oil.
Commonly known Benefits
Burns and other wounds: The aloe sap activates immune cells that fight bacterial infections and stimulates blood circulation thereby allowing burns to heal completely and cleanly. Aloe gel acts as a mild anesthetic relieving swelling, pain and itching. The gel repairs damaged cells and prevent burn scars. Clinical studies have revealed that cuts and burns that are treated with aloe gel heal faster than those that are treated with chemical antiseptic gels.
Aloe get is effective in curing blisters, insect bites, and psoriasis. It acts as an excellent skin moisturizer and restores the skin's natural beauty.
Skin disorders and wrinkles: Studies conducted by the University of Maryland has found that aloe gel has the potential to kill viruses that cause herpes. The gel when applied to the skin relieves inflammation and pain and also rejuvenates sun-aged skin.
Detoxification: Aloe gel aids in the cleansing of the digestive system and intestinal tract from toxins. The American Chronicle reported that the enzymes found in the aloe gel stimulate the production of blood cells and improves the blood circulation.
Cure for acne: The aloe plant has anti-inflammatory properties that help in curing pimple and acne issues. The gel reduces skin redness and heals the scars to great extent. The gel when combined with wheat- germ oil and safflower flower work effectively on bruises.
Scalp and hair: Aloe gel is used in the treatment of dandruff, dermatitis and hair loss. Commercial hair gels can be substituted with aloe gel for hair styling and easy combing.
Periodontal care: Aloe gel can be directly applied to damaged gums to reduce pain and inflammation.
With centuries of experience in traditional and ancient medicines, Aloe Vera gel has been simple, trusted and has always been there.