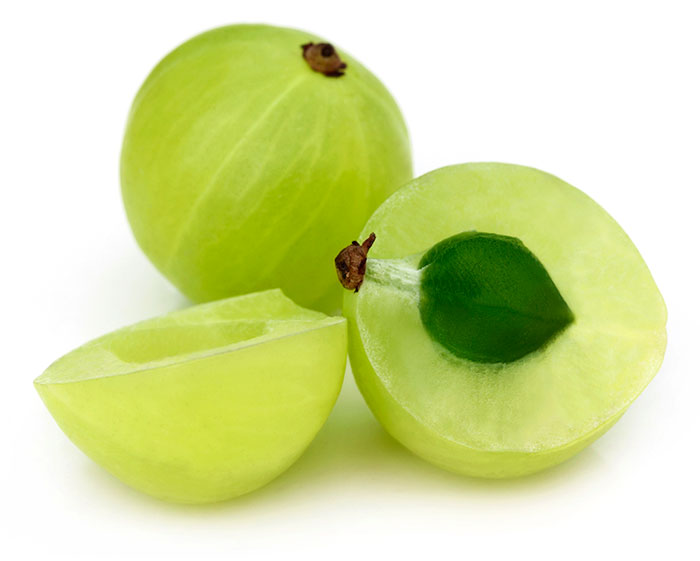 Amla co2 extract is obtained by supercritical co2 extraction and does not have any residues of chemical insecticides, pesticides or herbicides. The biological name of Amla is Emblica officinalis and it is high and important source of vitamin C, amino acids and minerals. It protects cells against free radical damage and offer antioxidant protection. It is widely used for treating skin problems, respiratory infections and premature aging. It is also used for treating hemorrhage, diarrhea, dysentery and other stomach related problems. The therapeutic value of amla is good for treating diabetes. Amla is anti-bacterial and has astringent properties which help prevent infection and help in the treatment of ulcers.
Effective
Amla has revitalizing and rejuvenating effects. It has been used in the holistic treatment of Ayurveda medicine and is used to treat a wide range of physical conditions. Amla co2 extract contains the highest concentrated form of plant derived vitamin C. It is immunity booster, antioxidant and digestive aid and has more than 20 times the vitamin C content of an orange. The vitamin C in amla is covered with tannins which protect it from getting destroyed due to heat or light. Amla regulated the absorption of food by increasing the fire in the stomach and without creating any excess stomach acids. Amla co2 extract which is extracted using the Supercritical extraction process which uses carbon dioxide and pressure to pull the oils, pigments and resins from the plant. This process results in a fresh and full spectrum of active constituents of the plant with high potency.
Extraction Process
Co2 extraction process consists of pumping pressurized carbon dioxide into a chamber filled with the plant materials. When the carbon dioxide is given pressure it becomes supercritical and will have liquid properties while remaining in a gaseous state. This is the time when co2 functions as a solvent, because of the liquid properties of the gas, pulling the oils and other substances like pigment and resin from the plant materials. Amla co2 extract promotes healthy liver function and supports healthy cholesterol levels. Even though it is a very potent form of Vitamin C it can be easily absorbed by the human body. It is very good internal cleanser and 100% vegetarian.
These statements have not been evaluated by the Food and Drug Administration. This product is not intended to diagnose, treat, cure, or prevent disease.