Quick Facts
Botanical Name: Emblica officinalis
Family Name: Phyllanthaceae
Common Name: Indian Gooseberry
Part used: Fruit
Specific Gravity: 0.910 to 0.925
Refractive Index: 1.4870 to 1.504
Optical Rotation: 0 +5
Blends Well With: Carrier Oils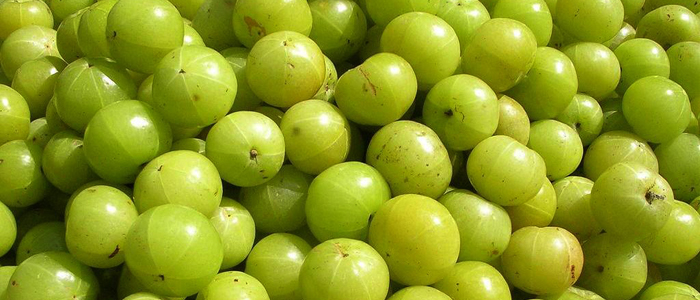 Uses: Amla oil is a frontline anti -inflammatory oil used in a wide variety of inflammatory conditions such as gastritis and colitis.
This oil is used in varied hair care preparations.
Countries where it's found
If gold is to minerals, it is Amla to herbs. Phyllanthus emblica, the Indian gooseberry, is a native to South Asia. The tree reaches up to 18 meters in height and bears a greenish yellow fruit. The plant grows in tropical and subtropical regions of India, Indonesia, Malaysia and China.
Harvesting Information
The fruits grow after 7 to 8 years of planting. The fruits are best harvested in February when the fruits contain maximum ascorbic content.
History of the Plant
Amla oil is used in traditional and alternative medicine. Some people consume amla juice, fresh berries, and dried berries as a dietary supplement. Amla oil has benefitted mankind than any other known oil in the world today.
Extraction Process
The fruit is cut into small pieces, dried and boiled in sesame oil. The oil then turns dark in color, which is known as Amla Oil.
Commonly known Benefits
Laxative: Amla fruit when taken along with a glass of juice or milk eases constipation. It prevents aging to a certain level and cures wrinkles.
Scalp benefits: Amla oil when massaged to the scalp promotes circulation in the skin and hair follicles. The oil is used as a natural conditioner making the hair stronger, thicker, softer, shinier, and provides adequate nourishment to the hair. Further, the oil soothes and cools the scalp promoting sound sleep.
Amla oil prevents balding, grey hair and premature aging.
Therapeutic massage: In the realm of Ayurvedic massage, oil is an effective lubricant and nourishes the skin. It provides cooling effect while massaged onto forehead, cheekbones and temples.
Scalp massaging enhances the flow of oxygen to the brain relaxing the nervous system and improving brain cell development.

Hair tonic: Pure amla oil can be applied on wet hair immediately. The oil strengthens hair roots, stimulates hair growth, prevents split ends, and restores the dark pigmentation to grey hair. In the commercial market, amla oil is used in the preparation of various hair care preparations.
The oil is widely used in hot countries like India and some neighboring countries to prevent stress and fatigue in tropical conditions.
Amla oil is a powerful antioxidant and recent studies have shown that the oil possesses anti-cancer properties including free radical functions.

The other benefits of amla fruit include health enhancement, effective remedy for blood impurities and blood clotting, as a blood sugar regulator, lowers cholesterol, and combats hyperacidity and ulcers. With a thousand year tradition, amla oil is a well-known rejuvenator. It is beneficial for hair, body and the heart.

These statements have not been evaluated by the Food and Drug Administration. This product is not intended to diagnose, treat, cure, or prevent disease.