Indian Name: Indian Gooseberry (famous as Amla)
Botanical Name: Euphorbiaceae Emblica officinalis
Some Other Names: Indian Gooseberry, Emblic myrobalan, Amla, Amalaki Herbal Oil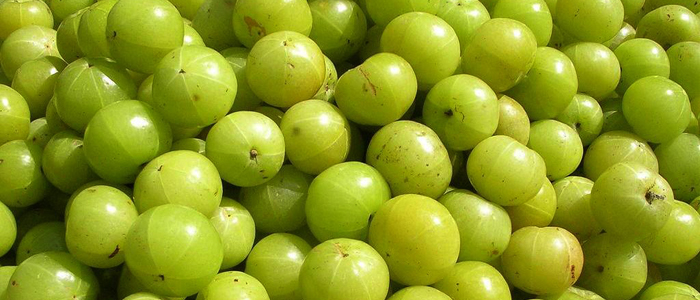 The use of Aonla is also very common among both natives and traditional healers of Chhattisgarh. Aonla is in list of non-wood forest produces of Chhattisgarh having routine demand. The buyers and traders at national and international drug markets are well aware of the unique medicinal properties of Aonla found in dense forests of Chhattisgarh. Aonla is also under cultivation as agroforestry crop in the state. But the natives an traditional healers, prefer wild varieties for preparation of herbal combinations. In Chhattisgarh, its fruits are used as stomach tonic. It is used in over 35 different ways. The use of Aonla fruit juice mixed in water and sugar syrup is most common in Chhattisgarh. Many healers use rose water (Gulab Jal) in place of water in the combination. The patients are advised to take this sweet preparation empty stomach as stomach tonic.

Short Description
Amla is one of the most ancient herbs grown and used in India. Amla has a great position in the Indian traditional medicinal system. After all, Amla offers a huge range of attributes that can be effective in several tough maladies. It is highly enriched with nutrients like Vitamin C. Indigestion, diarrhea, jaundice, anemia, scurvy or any other disease, amla can cure all.

History
Indian gooseberry, Amla belongs to Indian subcontinent. Amla is used in several forms for several purposes in Indian culture since thousands years.

Amla Composition
Amla is also called magical oil. But there is no magic that makes amla so effective but its active and enriched nutrients. Amla contains Vitamin C, amino acids and minerals. The amla fruit contains protein and enriched with ascorbic acid. It also contains, glutamic acid, proline, alanine, and lysine. They are available in 29.6%, 14.6%, 8.1%, 5.4% and 5.3% respectively.

The pulpy portion of fruit that excludes nuts contains gallic acid 1.32%, tannin, sugar 36.10%; gum 13.75%; albumin 13.08%; crude cellulose 17.08%; mineral matter 4.12% and moisture 3.83%. Amla fruit ash contains chromium, 2.5 ppm; zinc 4 ppm; and copper, 3 ppm.

Main Active Components of Amla:
Hexahydroxy-diphenic acid, conjugates.Emblicanin A&B, Puniglucanin, Pedunculagin, 2-keto-gluconolactone (Vitamin-C equivalents)and Ellagic acid,

Amla: Pharmacology
Amla can cure peptic ulcer (amlapitta in hindi) and disease like dyspepsia. The fruit contains antiatherosclerotic and hypolipiadaemic effects in animals like rabbits and rats. Amla extracts have antimicrobial properties. The fruit yields an antimutagenic effects that directly acts as mutagens in few strains of Salmonella typhimurium.

Amla: Its Multifarious Remedies
Pitta diseases, all obstinate urinary conditions, anemia, biliousness, bleeding, colitis, constipation, convalescence from fever, cough, diabetes, gastritis, gout, hepatitis, hemorrhoids, liver weakness, to relieve stress ,osteoporosis, palpitation, spleen weakness, tissue deficiency, vertigo rebuilds blood, bones, cells, and tissues, amla oil is effective on all of the mentioned disease.

Amla helps in enhancing the quantity of RBC and also controls diabetes, blood sugar, heart problems and prevents from inflammation. It also makes intestines cleans, makes teeth strong, protects eye sight. Even in digestion problems, urination problems and bleeding (internal), amla is pretty effective.