Useful Aspects Of Aroma Burners Bulb Type Ceramic
Aroma Burners Bulb Type Ceramic, make an excellent soothing addition to every sacred space. Aroma burners come in a huge range of appealing and well crafted designs to make a great decor piece too. Aromatic oils used in the burner have a calming effect and reduce stress and anxiety. Camphor too is an excellent choice to use in Aroma Burners. Highly fragrant, they make any home smell like paradise. Natural fragrance they emit will fill up the surroundings.
Exclusively Handcrafted
To use it, simply add water and fill the small well just half and add any favorite home fragrance aromatic oil. For a more subtle fragrance, simply add more water, approximately 15 ml water to the well. Then, at the opening at base, place the tea-light. A good idea is to avoid mixing different aromatic oils. While using this burner, use any single fragrant oil for better aromatic effect. Aroma Burners Bulb Type Ceramic are also very useful as an air freshener. Tea-light candles accompany these decorative burners.
Finest artisans in the world have handcrafted the ceramic burner most exclusively. It is easy to clean it and reuse anytime required. It makes a wonderful product for any home or as a gift item. It works well for any bedroom or drawing room and shoppers are sure to feel very pleased with this aroma burner. It is definitely a must buy product.
Awesome Decor Option
If there is something decorative and new you are looking for then this Aroma Burners Bulb Type Ceramic makes a perfect choice. It makes an awesome decor option for any office too. It diffuses scents
of any essential oil. Essential oil used in the burner diffuses so well in the atmosphere that inhaling it offers a number of psychological and physiological benefits. The aroma smoothly enters the brain and de-stresses it quickly. With this Aroma Burner, it is so easy to alleviate a lot of emotional problems and also depression.
Also always dilute any pure essential oil that is being used in the burner. Keeping the aromatic burner away from loose paper and flowing curtains is always a sensible idea. Keep checking the quantity of water evaporating in the aroma burner. Keep a check and add warm water frequently. Remember that if cold water is added to a hot ceramic bowl, it could easily crack. So before using the Aroma Burner or essential oils, read all relevant instructions first.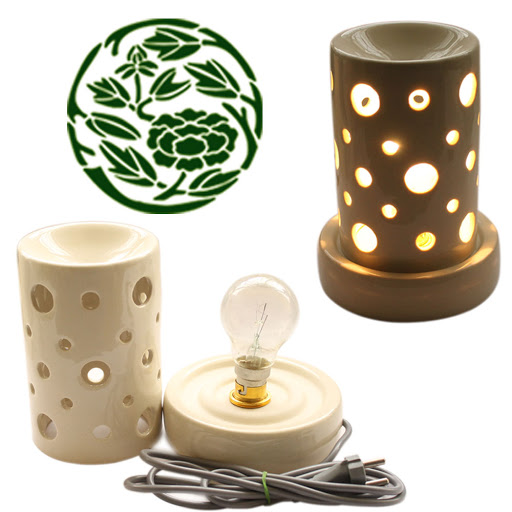 Useful Aspects About The Aroma Burner
One useful aspect about using a good sized Aroma Burner is that lovely fragrance is provided to a larger area. Also a great idea is to use thicker essential oils like sandalwood oil and patchouli. When an electric burner is used, these oils diffuse in the most efficient manner. It is advisable to never leave the Aroma Burner unattended. Before leaving the home or going to bed, always switch off the electricity.
Another advantage of purchasing the Aroma Burners Bulb Type Ceramic at the internet stores is that it is not all expensive. Hardly any electrical power is needed to use the aroma burner. Ensure the aroma burner is kept at a place where it is out of reach of anyone, just to prevent any kind of danger. Ensure that the burner does not get knocked over by anyone easily.
Simply Fall In Love With The Aroma Burner
If you love the fragrance of essential oils then, there to diffuse these oils, there couldn't be a better way than using the Aroma Burners Bulb Type Ceramic. Its beautifully crafted design has a particular charm to it.
To experience relaxation and healing in the most natural way is to use the beautifully crafted Aroma Burners Bulb Type Ceramic. Advantages of using this Aroma Burner are many, including removal of parasites, worms, bacteria, infectious substances that could take away health and wealth related energies. This Aroma Burner removes every hindrance that comes in the way of positive forces within the environment.
Price Worthy Product
Ceramic material is commonly used to make the electric burner. Simply switch on the night light and heat released will help in evaporating the water and at the same time vaporize the essential oil too. Lovely aroma will fill into the room where this Aroma Burner is used.
Deep Desire To Use It Again And Again
Simply start using the product and you will want to use it again and again. No matter what the decor is, this stylish and simple Aroma Burner fits in well everywhere. Whether the choicest Aroma Burners Bulb Type Ceramic are placed in the beauty salon, office, restaurant, parlor, drawing room, living room, prayer room or the bedroom, they give a completely positive feeling.
These statements have not been evaluated by the Food and Drug Administration. This product is not intended to diagnose, treat, cure, or prevent disease.