Quick Facts
Botanical Name: Laurus nobilis
Family Name: Lauraceae
Common Name: Bay Leaf
Part Used: Leaves
Specific Gravity: 0.905-0.929
Optical Rotation: -10 to-19 degrees
Refractive Index: 1.456-1.470 at 20 degree centigrade
Blends Well With: Cedar wood, Coriander, Ginger, Orange, Rosemary
Uses: Bay leaf oil is rich in potassium that controls bold pressure; manganese and copper that act as anti-oxidants and iron that aids in red blood cell production.
This oil is also used in beverages, scented candles and in medical preparations.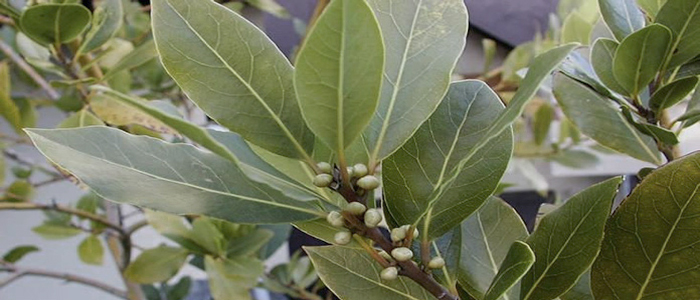 Countries where it's found
Bay leaf is native to the Mediterranean countries such as Italy, Spain, Greece, Portugal, and Cyprus and also grows in Turkey and Central American countries of Mexico and Guatemala.
Harvesting Information
Being perennial in nature, this shrub is an all-season plant that can grow from the fall garden to winter snowfall. The plant is harvested all year round and grows up to 20 to 30 feet in height. The plant is best harvested when the leaves are fully mature and intense.
History of the Plant
The bay leaf plant has a rich history of the Western culture. The plant is believed to be the symbol of Greek God Apollo. Greek priestesses ate bay leaves to achieve a trace-like state to deliver prophecies.
Extraction Process
The dried leaves of the plant are steam distilled to yield 1-3% of the essential oil. The oil is yellow in color with spicy aroma. The other components of the oil include cineole, sabinene, α-pinene, and α-phellandrene
Commonly known Benefits
Medicinal Uses:
The essential oil of bay leaf acts as an efficient astringent, diuretic, and an appetizer.
The oil primary constituent of the oil is cineole which amounts to 50% aids in soothing and relieving stomach aches, colic pain, and flatulence.
The lauric acid present in the bay leaf oil repels insects.
The oil is also used in the treatment of flu symptoms, bronchitis, muscle pain, and arthritis. It has carminative properties and promotes digestion.
In addition, the oil has germicidal, anti-infectious, antimicrobial, and mucolytic attributes.
Bay leaf essential oil vapors are calming and relaxing.
Health Benefits:
There exists as the age old myth that bay leaf plant is a symbol for wisdom, peace, and protection.
Bay leaf oil contains various derived compounds, minerals, and vitamins that are essential for good health.
The compounds present in the oil are believed to possess anti-oxidant, digestive, and anti-cancer properties.
The essential oil of bay leaf contains high amounts of vitamin C performs as a natural anti-oxidant and removes free radicals from the body. Further, the presence of vitamin C has anti-viral and wound healing properties.
Vitamin A present in the oil aids in good eye sight and maintains skin health. Vitamin B-complex present in the oil helps in regulating body metabolism, nervous system functioning, and enzyme synthesis.
Culinary Uses:
Bay leaf oil is used extensively in seafood, meat, and vegetable dishes.
It is also an important ingredient in French recipes and is used as a standardized flavor.
The oil is used in toiletries, beverages, and scented candles and in medical preparations

These statements have not been evaluated by the Food and Drug Administration. This product is not intended to diagnose, treat, cure, or prevent disease.