Botanical Name: Buchanania Latifolia Roxb
Family Name: Anacaradiaceae
Common Name: Almondette, Cuddapah almond, Calumpong nut, Hamilton mombin. Some Indian common names are Chironji, Piyal, Priyal, Charoli
Part used: All the parts of the tree is used. However seeds are used in many ways.
Specific Gravity: At 200C the specific gravity is 0.8942
Refractive Index: 1.4584
Blends well with: Buchanania lanzan chironji blends well with honey, milk and buttermilk.

Uses:
With each part of the tree there is a different usage. The roots have an astringent, acrid, depurative and cooling quality. It is useful in treating diarrhoea. The leaves which are leathery, thick and broad are used for treating skin diseases. Asthma and cough is treated with the fruits of the chironji tree. The oil of chironji seed is used to apply on glandular swellings. It is effective to remove blemishes on the skin. It is safe on the facial skin too. The gum of the tree is used for treating diarrhoea. The extracts from roots treat blood infections caused by gall bladder and liver. Powdered leaves are used as tonic to relieve fatigue. The seeds are used aplenty in different dishes in the Indian cuisine.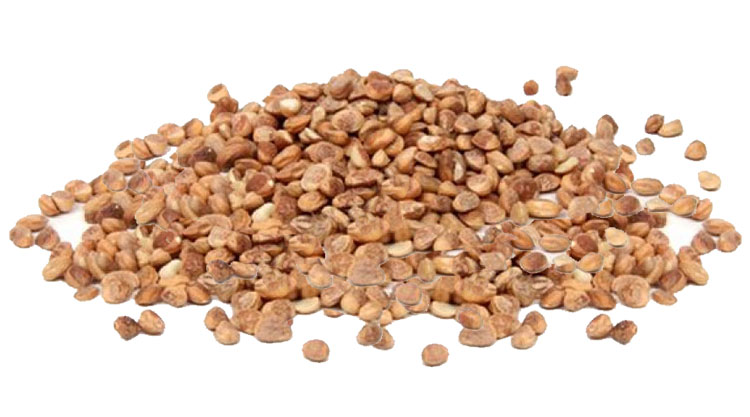 Countries where it is found: Chironji tree is native to India. It is generally seen in forests and also in ravine lands which have eroded. In India it is grown all over the country and in particular in Northeast India. It is also found in Malaysia, Burma and Nepal.
Harvest Information: Chironji tree grows to about 50 ft and is a deciduous tree. It grows well on dry land and does not flourish in water logged soil. Soil can be sandy or loamy for the chironji tree to grow well. The trunk is thick, the flowers greenish white and small. The fruit which has just one seed is black in color. The flowering period is from January to March. The fruits ripe between April and May and they do not drop from the tree for a long time. From each tree 1-5 kgs of seeds can be collected. The seeds should not be kept in the open as it will lose its flavor and become bitter.
History of Plant: For many centuries in India, all the parts of the Chironji tree were known for its medicinal properties and as a taste enhancer. There are many Sanskrit verses which talks about the properties and uses of the Chironji tree.
Extraction Process: Chironji seeds are green in colour which turns black when stored. This covering has to be removed to shell the nuts. Once the nuts are cleaned well, the oil is extracted through steam distillation.
Commonly Known Benefits: Chironji oil is used as a substitute for olive oil and almond oil. Chironji oil is believed to be effective for grey hairs. It is used in many pharmaceutical products. There is a precaution mentioned in the usage of chironji products; pregnant women and lactating are advised not to use it. The oil can control premature ejaculation. It is good for rheumatism and fever also.

These statements have not been evaluated by the Food and Drug Administration. This product is not intended to diagnose, treat, cure, or prevent disease.