Cardamom Oleoresin
Safety data – non-toxic, known irritant, nonsensitizing. Family – Zingiberaceae
Synonyms – Cardomom, Cardomomi, Musore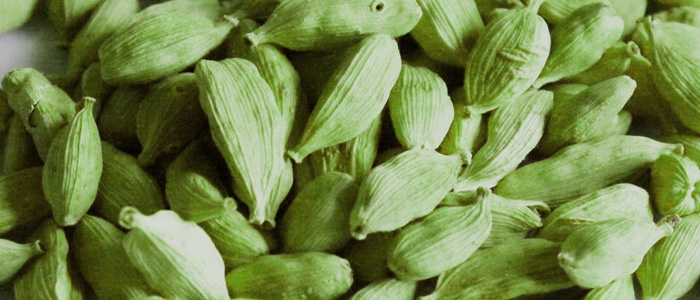 Herbal/folk tradition - Used extensively as a domestic spice, especially in India, Europe, LatinAmerica and Middle Eastern countries. It has been used in traditional Chinese and Indian medicine for over 3000 years, especially for pulmonary disease, fever, digestive and urinary complaints. Hippocrates recommended it for sciatica, coughs, abdominal pain, spasms, nervous disorders, retention of urine and also for bites of venomous creatures. Current in the British herbal Pharmocopoeia as a specific for flatulent dyspepsia.
Aromatherapy/home use- Digestive system – anorexia, colic, cramp, dyspepsia, flatulence, griping pains, halitosis, heartburn, indigestion, vomiting. Nervous system – mental fatigue, nervous strain.
Other uses - employed in some carminative, stomachic and laxative preparations; also in the form of compound cardamom spirit to flavor pharmaceuticals. Extensively used as a fragrance component in soaps, cosmetics and perfumes especially oriental types. Important flavor ingredient particularly in curry and spice products.
Distribution- native to tropical Asia especially southern India; cultivated extensively in India, Sri Lanka, Guatemala and El Salvador. The oil is produced principally in India, Europe, Sri Lanka and Guatemala.
Extraction – essential oil by steam distillation from the dried ripe fruit. An oleo resin is also produced in small quantities.
Characteristics – a colorless to pale yellow liquid with a sweet-spicy, warming fragrance and a woody-balsamic undertone. It blends well with rose,olibanum, orange, bergamot, cinnamon, cloves, caraway, ylang ylang, labdanum, cedarwood, orange blossom, and oriental bases in general.
Actions – antiseptic, antispasmodic, aphrodisiac, carminative, cephalic, digestive, diuretic, stimulant, stomachache, tonic (nerve).
These statements have not been evaluated by the Food and Drug Administration. This product is not intended to diagnose, treat, cure, or prevent disease.