Quick Facts
Botanical Name: Anacardium occidentale
Family Name:
Common Name: Kaju
Part used: Nuts
Specific Gravity: 0.950 - 0.970 @20°C
Refractive Index: 1.5158 @20°C
Optical Rotation: N/A
Blends Well With: Cashew nut oil does not blend well with all the oils but hasa tendency to blend with a few.
Uses:
Cashew nut oil is dark yellow oil and it is widely used for cooking or for salad dressing. The oil is extracted from a single cold pressing procedure. The roots of the cashew nut oil comes from the North east Brazil and the oil has been used for medicinal and health purposes and also for beauty products. Cashew nut oil is rich in nutrients like vitamins and minerals and it will provide all the goodness needed. It can be used for cracked heels to cholesterol and its nutrients can cure almost everything. There are many beauty products which include cashew nut oil as their main ingredient because this oil provides a smooth texture to the skin. Applying this oil on the skin means the skin has retained its moisture. There is abundant quantity of moisture present in cashew nut oil and this is because of the high amounts of unsaturated fatty acids present in it. Cashew nut oil has a rich presence of Vitamin E and it plays an important role in anti-aging mechanism and it has become ingredients in anti-aging products. Cashew nut oil can be applied on the skin infection like warts and it has the ability to treat fungal infections. The oil can also improve the skin complexion. The vitamin E present in the cashew oil is also good for the hair.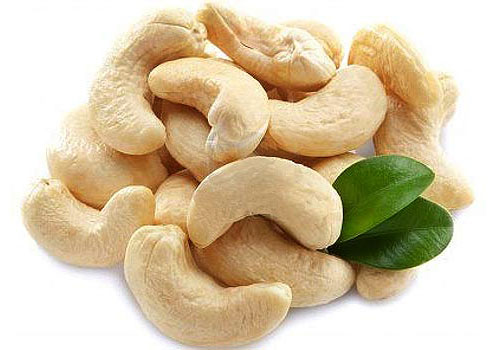 Countries where it's found:
Cashew is native of Brazil and it is now widely cultivated in India, Nigeria and Vietnam.
Harvesting Information:
The cashew tree which is called Anacardium occidentale is a tropical evergreen tree which produces the cashew seed and cashew apple. The tree can grow as high as46 feet and there is another variety which is the dwarf cashew which grows upto 20 feet and this is variety has proved to be more profitable because of its early maturity and better yields.
History of the Plant:
The cashew tree (Anacardium occidentale) isa tropical evergreen tree that produces the cashew seed and the cashew apple.The plant can grow as high as 14 m (46 ft), but the dwarf cashew,growing up to 6 metres (20 ft), has proved more profitable, with earlier maturity and higher yields.
Extraction Process: The oil is extracted from the seeds of the plant by the cold pressed method.
Commonly known Benefits:
The acids like linoleic acid and oleic acid have strong presence in this oil and the oil can be used for all hair types. It provides a smooth and shiny texture to the hair. The oilcan be applied on the bald head also and if used on a regular basis you will be able to note the difference. It has the power to treat scalp infections also.There is strong presence of magnesium and calcium in this oil hence it helps in maintaining healthy and strong bones and teeth.
These statements have not been evaluated by the Food and Drug Administration. This product is not intended to diagnose, treat, cure, or prevent disease.