Celery Seed Essential Oil

Botanical Name: Apium Graveolens
Family: N.O. Umbelliferae
Synonyms: Wild Celery, Smallage, Apium Graveolens, Wild Celery, Aches Des Marais, Ajamoda, Apii Frutus, Celery Fruit, Fruit De Celeri, Smallage, Selleriefruchte, Selleriesamen.
Habitat Region: Levant, South Europe, Great Britain etc.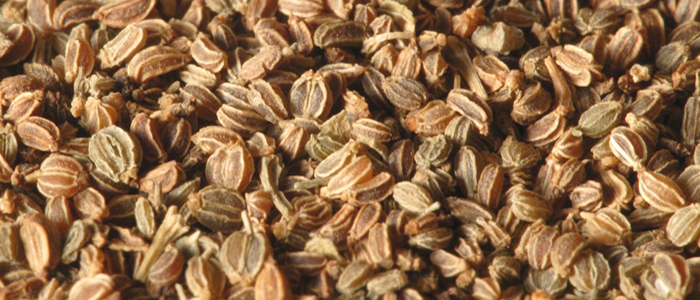 The celery used in herbal medicine is a close relative of the celery you can buy in market. The fruit or "seed" is grayish green to brown with a characteristic, slightly bitter, spicy taste. Too much celery seed can overpower a dish, whereas a little brings out flavors in other foods. Celery seed is used in pickles, casseroles, and Bloody Marys.
Celery is an aromatic and very warm fragrant herb. Celery seeds are used worldwide. Celery seeds are great taste enhancers. That's why, it used in the preparation of several dishes. In addition, the celery seeds are used in casseroles pickles etc.

Celery seers are gray-green in color and have bitter and spicy taste. The seed is composed of two oils i.e. one is heavy in nature and the other lighter.

Celery: Uses and Medical Actions
Celery is known for its active elements that make it distinct from other seeds and herbs. The calming aroma acts as a great calming stimulant. Also, it can help you in diseases like diuretic disorders, hysteria, sleeping disorders, arthritis and so on. Its aroma makes on mind and soul very calm and composed. It is suggested to take celery along with Coco or Damiana in order to prevent rheumatism.

As aforementioned, celery seeds are great taste enhancers; they are used in tea, and dishes.

Warning
People having high blood pressure, prone to sunburn, or diuretic, must avoid Celery Seed Oil.