Clove oleoresin
Family -- Myrtaceae
Herbal/folk tradition - Extensively used as a domestic spice worldwide. Tincture of cloves has been used for skin infections (scabies, athlete's foot); for digestive upset; to dress the umbilical cord; for intestinal parasites; to ease the pain of child birth (steeped in wine); and notably for toothache. The tea is used to relieve nausea. In Chinese medicine the oil is used for diarrhea, hernia, bad breath and bronchitis as well as for those conditions mentioned above.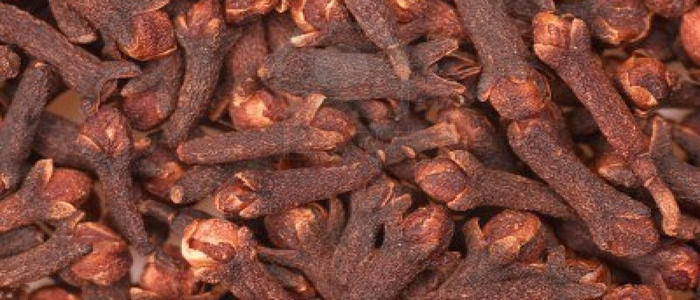 Aromatherapy/home use --Only use clove bud oil, not the leaf or stem oil. Skin care -- acne, athlete's foot, bruises, burns, cuts, insect repellent (mosquito), toothache, ulcers, wounds.
Circulation, muscles and joints -- arthritis, rheumatism, sprains.
Respiratory system -- asthma, bronchitis.
Digestive system -- colic, dyspepsia, nausea.
Immune system -- colds, flu, minor infections.
Other uses -- used in dental preparations, and as a fragrance component in toothpaste, soaps, toiletries, cosmetics and perfumes. Extensively employed as a flavor ingredient in major food categories, alcoholic and soft drinks. Used in the production of printing ink, glue and varnish; clove leaf oil is used as the starting material for the isolation of eugenol.
Distribution -- believed to be native to Indonesia now cultivated worldwide, especially in the Philippines, and Madagascar. The main oil-producing countries are Madagascar and Indonesia.
Extraction -- essential oil by water distillation from the buds and leaves, and by steam distillation from the stalks or stems. A concrete, absolute and oleoresin are also produced by the buds in small quantities.
Characteristics -Clove bud is a pale yellow liquid with a warm, sweet-spicy odor and a fresh, fruity top note. The bud oil is flavored in perfumery work. It blends well with rose, lavender, vanilla, clary sage, bergamot, bay leaf, allspice, ylang ylang. Clove leaf is a dark brown oil with a crude, burnt-woody earned odor. Clove stem oil is a pale yellow liquid with a strong spicy-woody odor.
Actions -- anthelmintic, antibiotic, anti-emetic, anti-histaminic, antirheumatic, antineuralgic, antioxidant, antiseptic, antiviral, aphrodisiac, carminative, counter irritant, expectorant, larvicidal, spasmolytic, stimulant, stomachic, vermifuge.
Safety data – all clove oil can cause skin and mucous membrane irritations; clove bud and stem oil may cause dermatitis. Clove bud is the least toxic of the tree oils because of the lower eugenol percentage. Use in moderation only, and low dilution (< 1 percent).
These statements have not been evaluated by the Food and Drug Administration. This product is not intended to diagnose, treat, cure, or prevent disease.