Extraction Method
Coriander CO2 extract is obtained from coriander seeds by the Super Critical CO2 Select method. In this procedure the solvent used is carbon dioxide in fluid state. In sub and supercritical conditions, the other solvent best to use is propane.
The extract is colorless, mobile, transparent and clear in appearance. Coriander Seed CO2 Extract in its purest form has a wonderful aroma, very much similar to aroma of coriander seeds freshly crushed.
Origin
Botanical name of Coriander is Coriandrum Sativum. Origins of Coriander are seen in Ukraine. Ethical farming is the method followed to cultivate coriander. Plant seeds are utilized in obtaining the extract which has a woodsy, mild spicy, sweet, green, warm and sharp aroma.
The herb is native to parts of South Eastern Europe. It grows mainly in the wild however it is cultivated all over the globe extensively. Cilantro is aromatic oil extracted from leaves of coriander herb.
Chemical Components
Terpinolene, cymene, dipentene, phellandrene, borneol, pinene, terpineol, cineole and linalool are the main chemical components of Coriander Essential Oil. The major component in it is Linalool and it is non toxic and non irritant generally.
Aromatic Profile
Coriander Seed CO2 Extract has a peppery, lively woody, powerful, stunning balasamic undertone, sweet, diffusive, warm, somewhat spicy aromatic profile reminiscent of Rosewood. Its balsamic undertone is very stunning very much having aroma to that of rosewood essential oil.
Its spicy and sweet scent is most relaxing, welcoming and warm. It is listed as a great stimulant like many other spices. To make a wonderful perfume blend for daytime use, simply mix Coriander essential oil with Orange, Vetiver and Basil.
To make a nice aroma lamp, mix together some Mandarine with Coriander Essential Oil. It helps remove snappishness and irritation. Without having any sedating effect, this oil soothes and calms. At the end of a hard working day, this is a nice soothing oil to use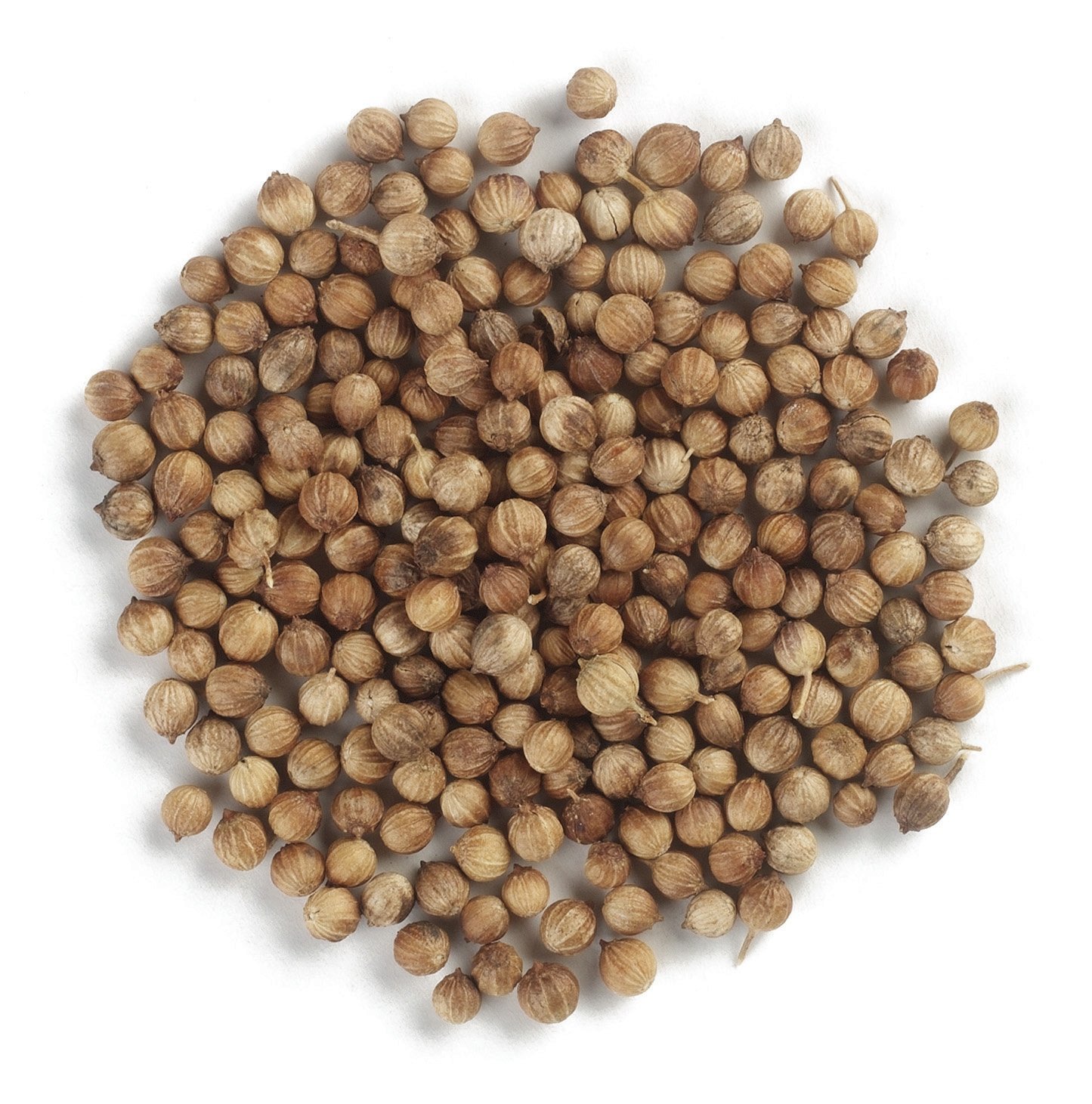 Blending Abilities
The extract blends well with a number of essential oils including Ylang Ylang, Bergamot, Vetiver, Black Pepper, Tangerine, Cardamom, Sandalwood, Cinnamon Bark, Ravensara Aromatica, Clary Sage, Petitgrain Bigarade, Jasmine Sambac, Clove Bud Extra, Palmarosa, Cypress, Orange Sweet, Frankincense, Nutmeg, Geranium, Neroli, Ginger Fresh, Lemon and Grapefruit Pink.
It blends well with a number of essential oils many other spice oils, mainly to provide a masculine note to the perfume or oil. While blending it with other oils one suggestion to keep in mind is to dilute it well and add it drop by drop to the required blends, till desired effect is attained.
Health Benefits Of Coriander Anti Bacterial Spice Oil
One top grade anti bacterial oil and favorite spice oils is Coriander Seed Oil. Its aroma is inviting, warm and unique. For treating flu, colds and blues during winter time, the oil passes on a wonderful and exquisite feature in various blends used. To get a delightful aroma of the oil, take a few coriander seeds off the shelf, crush them and inhale fantastic depth of its delightful aroma. The inhaler will easily relate to the brilliant and masculine qualities the oil has.

Coriander Essential Oil revitalizes the glandular system, refreshes and uplifts the mind, relieves nervous weakness, fatigue and tension. This essential oil relieves neuralgia, eases indigestion and stimulates appetite. As an anti inflammatory and anti spasmodic it is very useful oil. If muscles ache then simply rub in some coriander essential oil based rub to get relief. It is an excellent chest rub too. As compared to many other spice oils it is gently stimulating.

If the essential oil is taken in bigger doses then there are increased chances of causing grogginess.

Benefits To Skin

A blend of Coriander Seed Oil and Turmeric helps in relieving blemishes on skin. Scent of Coriander oil is warm, relaxing and works as an excellent stimulant. If the person has sensitive skin then it is best to perform a patch test first and then only use it but in diluted form.

Beauty Uses

Coriander seed oil makes a perfect blend in products for body care and bath. It is blended with harmonious oils including Sandalwood, Frankincense and Black Pepper to make body care products for males.

Aromatherapy Use

In aromatherapy, Coriander Seed Oil is used in treating gout, anorexia, stiffness in muscles, arthritis, pains, aches, rheumatism, flatulence, poor circulation, exhaustion of the nervous system, colic, nausea, gout and migraines.

Use In Perfume Industry

It is for its excellent fixative qualities that coriander seed is used in the perfumery industry. In perfumes of the 'Oriental Types' the effects it produces are highly interesting.

General Use

Coriander Seed Oil is popularly used in perfumes, oil diffusers, bath salt, shower and bath gels, natural incense, candle making, potpourri, soap making, bath oils, spa treatment creams and oils etc. Contraindications of the oil are that it is non irritant and non toxic generally. It is used in the natural perfumery industry also.

The oil gets is unique properties by specific temperature and pressure used so that optimum coriander oil extraction is achieved. CO2 extraction process is the best method followed to make it easy for the oil to attain its maximum purity. It is for its antibacterial properties and oxidants contained in it that make this spice oil as one of the most favored ones

These statements have not been evaluated by the Food and Drug Administration. This product is not intended to diagnose, treat, cure, or prevent disease.