Coriander Oleoresin
Coriander use has a medicinal plant has been reported since 1500 B.C. both as a spice and as a medicine. It has now spread well beyond its native Mediterranean and Caucasian regions. It aids digestion, reduce flatulence and improves appetite. It helps relieving spasms within the gut and counters the effects of nervous tension. Coriander is also chewed to sweeten the breath, especially after consumption of garlic (Allium sativum). It is applied externally as a lotion for rheumatic pain. Coriander essential oil is used in the manufacture of perfumes, cosmetics and dentifrices.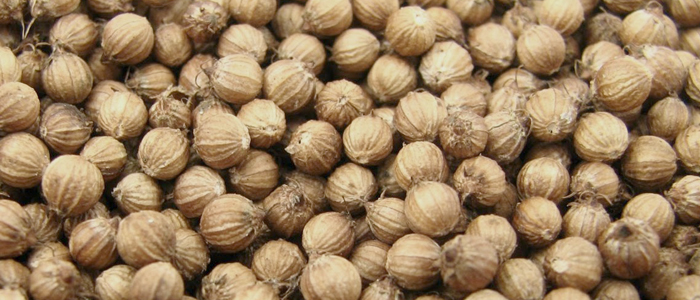 Main Properties: Digestive, antispasmodic, anti-rheumatic.
Botanical Nomenclature: Coriandrum sativum L. (Fam. Umbelliferae)
Preparation: Obtained by solvent extraction of the fruit with the subsequent removal of the solvent.
Appearance and odour: Caramel colour liquid with the characteristic odour and flavour of Coriander
Volatile Oil Content: 7-8 ml / 100g
Residual solvent : <15 ppm
Solubility: Soluble in vegetable oil.
Equivalence: 1 Kg of Coriander Oleoresin is of equal value to 10-15 Kg of seeds.
Storage: In tight full container in a cool, dark and dry place.
These statements have not been evaluated by the Food and Drug Administration. This product is not intended to diagnose, treat, cure, or prevent disease.