Botanical Name: Cucumis Sativus
Family Name: Cucurbitaceae
Common Name: Cucumber, Cuke, Concombre, Komkommer, Gurke, Pepino, Cohombro, Cetriolo
Part used: Seeds
Specific Gravity: 0.915 – 0.930
Refractive Index: 1.47 – 1.48
Optical Rotation: (+ 10°) - (+ 25°)
Blends well with: Blends with olive oil, cucumber juice, vitamin C and other antioxidants. It can blended with fattier and longer oil like avocado, apricot kernel, peach kernel, sweet almond oil, olive oil for better lubrication. It blends well with kiwi seed oil, chia seed, Camelina, thistle and rosehip oils.
Uses:
Cucumber oil is used in various cosmetic applications because of its cooling and soothing properties. It is used in main skin care, hair are and nail cream products. It can be mixed in face masks or freshening gels to get the skin that extra glow. Mixing the oil along with aloe Vera and olive oil makes a great moisturizing soap for skin cleansing. Cucumber seed oil has a good amount of phytosterols and it helps the skin to strengthen its lipid barrier and restore moisture in the right balance. It is used for treating dry skin, eczema, psoriasis, sunburns and acne. The oil absorbs quickly and is very good for moisturizing the skin. The cucumber seed oil helps protect skin from free radicals and is highly recommended as an anti-aging and wrinkle reduction medicine.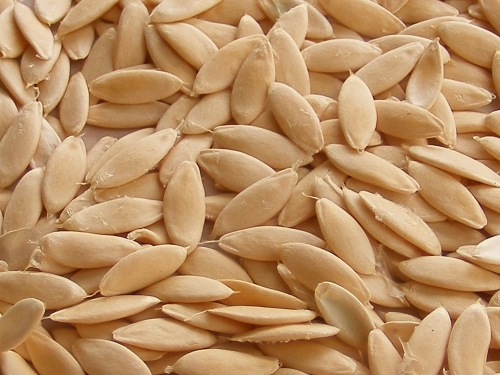 Countries where it is found: Country of origin is Chile and India.
Harvest Information:
Cucumber crop requires a moderate warm temperature and is best grown at temperatures between 200C and 240C. It will not grow in frosty conditions. It grows in wide varieties of soil from sandy loam soils to clay soils with good drainage. Sowing of the cucumber seeds should be done during the month of June or January to April. Drip irrigation is best method for cucumber farming. Harvesting is done after 40 to 45 days after sowing and on an average 8 to 10 harvest can be done. Picking the cucumber on time is most important for better quality fruit.
History of Plant:
The cucumber plant is believed to be a native of India and it has been cultivated in Western Asia for more than 3000 years. Cucumber is listed as a food of ancient Ur and the legend of Gilgamesh also describes eating cucumber. It is said to have been produced in ancient Thrace and is part of cuisine in Bulgaria and Turkey. It is said to have spread from Greece and Italy and later to China.
Extraction Process: Cold pressed
Commonly Known Benefits:
Cucumber seed oil is light oil and it is ideal for moisturizing hair. The water content in Cucumber is very high and it is good during summer, especially for thirst and good bowel movement. It cools the blood and purifies the intestines. It is good for people having problems like diabetes, gout, obesity and arthritis. It has laxative properties and is recommended for constipation, stomach pain and dyspepsia. It clears the body of toxins and benefits and strengthens the heart. It strengthens the spleen pancreas organ and helps to kill tapeworms. It is good for lung dryness and cools the body in hot and dry climates.

These statements have not been evaluated by the Food and Drug Administration. This product is not intended to diagnose, treat, cure, or prevent disease.