Cumin seed scfe co2 oil contain monoterpene aldehyds cuminaldehyde, p-mentha-1,3-diene-7-al and p-mentha-1,4-diene-7-al and the terpene hydrocarbons gamma terpinene, beta pinene and cymene. The oil is extracted from the seed which dried before extraction. With supercritical fluid extraction with natural carbon dioxide there are no solvent residues, no inorganic salts, no heavy metals and no reproducible microorganisms. It is widely used in products like cheese, sausages, soups, stew, in fillings and in liqueurs. It is used in medicines as carminative for stomach trouble and colics. It has anti-inflammatory and antimicrobial properties and because of it is used in natural remedies and in cosmetics. The oil and seed ingredient, particularly thymoquinone (TQ) have medicinal properties in treatment and prevention of different diseases. It has many effective activities like anti-inflammatory, anti-oxidant, anti-cancer and many more. It also expressed many anti-microbial properties towards various microbes.
Traditionally Used
Black cumin seeds (Nigella sativa) are from the Ranunculaceae family and from ancient times it has been used as spice and food preservative. It is widely grown in Mediterranean regions, Middle East countries, Eastern Europe and West Asia. It has been used traditionally used for centuries to treat asthma, cough, headache, rheumatism, fever, eczema and influenza especially in countries like India, Middle East and North Africa. Supercritical fluid extraction has many benefits. Compared to the conventional methods it is environmentally compatible fluids, has low temperature, the extraction time is shorter and it is easy for the separation of solute from supercritical fluid solvent by simple expansion. SCFE extraction will not leave any trace of organic solvent and the most frequently employed solvent is carbon dioxide (CO2). It has less toxicity, and it is safe and cheap and has low critical temperature and pressure.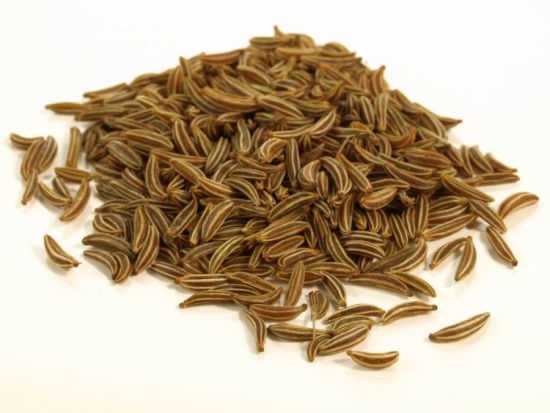 Different Uses
Cumin seed oil is used largely for medicinal purposes and food flavoring. It is an antiseptic, anti toxic, anti-oxidant, antispasmodic, digestive, larvicidal, emmenagouge, diuretic, nervine and a stimulant. It is used as a warming oil to ease off the muscular pain and osteoarthritis. It is useful for the digestive system and helps with colic, dyspepsia, flatulence, bloating and indigestion. It is good for migraine, headaches, and physical exhaustion. It is anti viral and helps digestion by protecting liver and boosting the immune system.
These statements have not been evaluated by the Food and Drug Administration. This product is not intended to diagnose, treat, cure, or prevent disease.