Quick Facts
Botanical Name: Anethum graveolens
Family Name: Apiaceae
Common Name: Anethum graveolens
Part used: Seeds and stems
Specific Gravity: 0.946 (0.910 To 0.980)
Optical Rotation: 71.5 Degree, +72.5 degrees
Blends Well With: It has grass like smell and is pale yellow in color, can be diluted with water to make dill water.
Uses: This oil is used to cure digestive problems in adults. This oil is best to reduce oral inflammation.
Countries where it's found
This plant is best found in the Arctic Circle which is regarded as most optimal place for the cultivation of dill though basically it originated from Russia and European region.
Harvesting Information
The Arctic Circle provides superb conditions for its cultivation. For the cultivation of the particular seed warm to hot summers are required, even a little less temperature can reduce the production. Hot sunshine is the foremost thing, which it needs to grow. These seeds work for three to ten years. Flower heads are cut when it ripens and they are covered with paper bags from the upper part and left again in the heat, after getting loose from the stems, they are stored in containers which are fully airtight.
History of the Plant
History of the seed of Dill indicates that it was originated in especially Mediterranean European, southern Russian countries and west Asian countries. The remarkable tomb of AmenhotepII was also reported to have the tiny branches of dill. Dill means `to lull', which indicates the use of dill seeds in the plight of insomnia. Greeks and the Romans used to use this as an Ayurvedic medicine on the bodies of burnt warriors. In the medieval period, as so many superstitions prevailed that time these seeds were an important ingredient of love potions, used for casting spells and also in potions made to keep people away from witchcraft. People use to assume these seeds were so much pious and carried them for saving themselves from curses and hexes. Cultivation of `dill seed' can also be read in the history of Neolithic arrangements in Switzerland. Some traces of consuming this seed are also found in Roman and British culture too.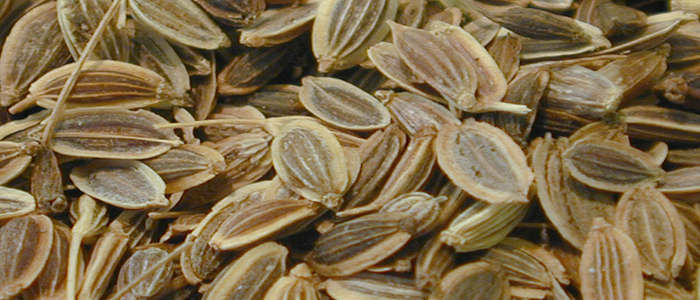 Extraction Process
It is essentially extracted from the seeds or stems of the dill plant. Dill blooms in southwest Asia when the days are much warm and nights are not long. These plants grow from three to five feet in length, with lacy yellow flowers on sham and hard stems.
Commonly known Benefits
Dill is used for solving the digestive problems of the adults; it should not be given to the kids as it is too strong
In adults it helps to increase the appetite, solves liver problems and fights with urinary infections. It regulates urine and removes the problem of painful urine.
It is used for fever, colds, sleep disorders, coughs, nerve pains, bronchitis, spasms, infections etc.
Dill can be wonderfully helpful in reducing oral inflammations like mouth and throat. Dill seed is sometimes applied for oral pain and swelling (inflammation).
As a cooking spice, it spices so many recipes. So many soaps and perfumes are made with the help of it because of its fragrance.
Hiccups and constipation problems are solved by the help of `dill' oil. It also relieves the tension and keeps our nervous system fit.
These statements have not been evaluated by the Food and Drug Administration. This product is not intended to diagnose, treat, cure, or prevent disease.