Origin
Foeniculum Vulgare Amara is the botanical name of Fennel. Fennel belongs to the Umbeliiferae or Apiaceae family, a plant from the parsley family. The plant is native to the Mediterranean region and Southern Europe. Fennel oil is mainly produced in Australia and Spain. Spain is the country of origin of Fennel seed CO2 oleoresin. It is from the dry seeds that fennel oil is extracted from. It is from the Latin word 'Fenum" that the name Fennel is derived. The term Fenum means 'hay'.
The plant grows erect as a perennial herb. The plant grows up to a height of 4.5 feet and yellow coloured flowers bloom on it. Fennel seed oil colour is clear to pale yellow.
Since historical times, the fennel herb is believed to encourage strength, longevity and courage. It was for its digestive properties that it was used in abundance by Romans. Greeks used the herb for slimming purposes. Since ancient times, fennel seed oil is also being used for emotional and spiritual support. Warriors in spirituality were of the belief that this essential oil provided strength and courage while fighting on the battlefield and also provided longevity. Fennel oil was used to block off witches, evil spirits and evil spells during the Medieval Age. In the Middle Ages, Fennel was better known as Fenkle. The oil was also used to treat infection from fleas, folic and snakebites.
Extraction Method
Fennel Seed Extract is obtained from the seeds of the Fennel plant. SCFE is the extraction method used to obtain the essential oil. It is from the crushed Fennel seeds that Fennel oil is obtained by the CO2 extraction method. This method yields 2-4% quality oil. A sweet fennel called Foeniculum Vulgare Var Dulce belonging to the Apiaceae or Umbelliferae family is used in extracting Fennel Seed Oil.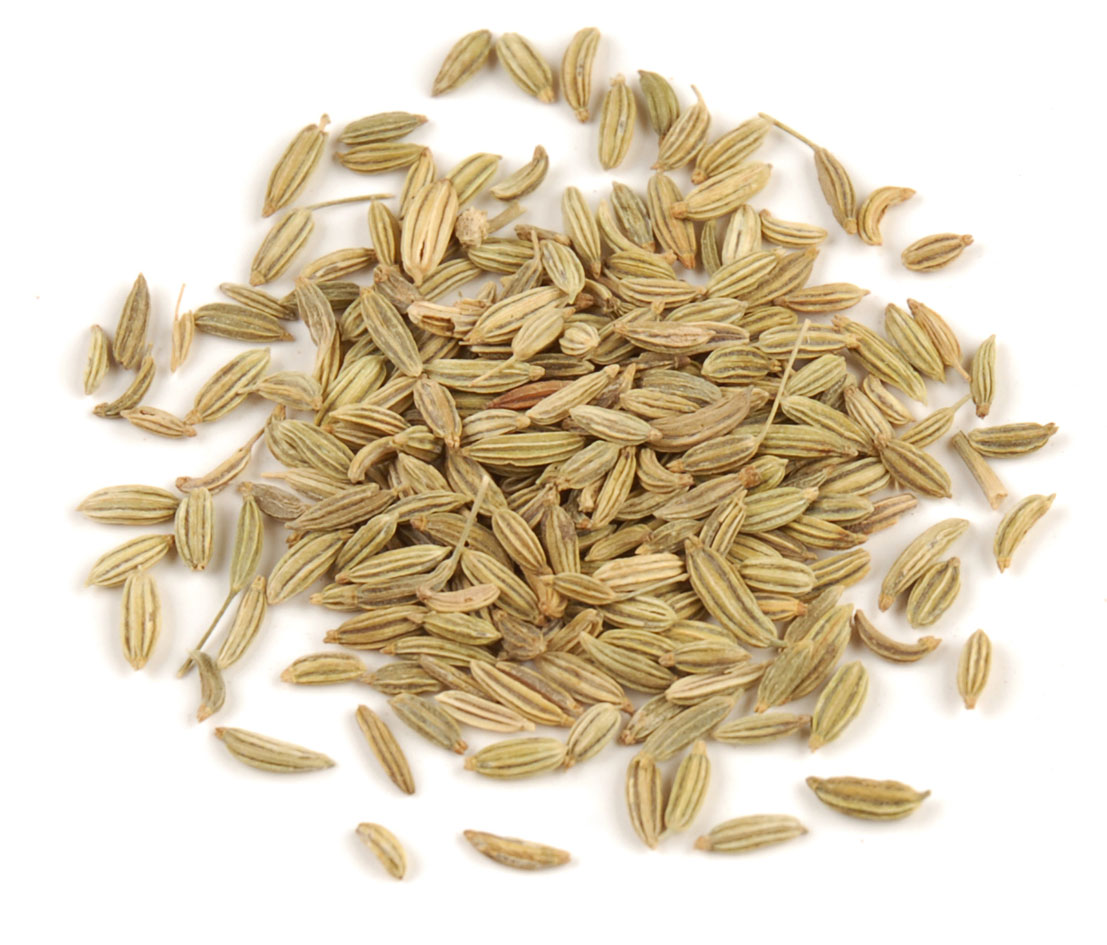 Properties
Fennel Seed CO2 extract is an excellent stomachic, antiseptic, stimulant, expectorant, diuretic and carminative. The liquid is warming, motivating and very refreshing to use.
Chemical components
Constituents of Fennel Seed Oil include trans-anethole, a-pinene, anisic aldehyde, myrcene, 1, 9-cineole, fenchone, limonene and methyl chavicol.
Blending Abilities
Fennel oil is used in creating a number of harmonious blends with black pepper, Frankincense and sandalwood
Aroma Profile
Fennel Seed Oil has medium aroma, wood, sweet and spicy scent and its consistency is light.
Things To Keep In Mind
One thing to keep in mind is not to use it in concentrated form. It could cause irritation in skin, hence it is advisable to use it in diluted form only. Also avoid using it in direct sunlight. Pregnant women and children can take it after consulting a qualified health practitioner.
Benefits
Fennel plant herb has been used since ages and is believed to encourage courage, strength and longevity. Fennel Oil has a neutralizing effect on poisons, strengthens eyesight and balances menstrual cycles. Besides this it supports digestive systems, respiratory system and blood circulation. It works wonderfully as a digestive aid. During menstrual cycle, Fennel Seed CO2 Oleoresin is good to administer to balance, energize and support a feeling of good health and well being.
Fennel Seed CO2 Oleoresin helps clam minor irritation in skin, supports healthy lymphatic system and provides spiritual and emotional relief. If any person is going through a stubbornness phase, lacks motivation, is low in self esteem and is experiencing self doubt, the Fennel Seed Oil proves to the ideal choice. With Fennel Oil treatment the individual is able to live in alignment with integrity and values. The solar plexus gets strengthened to support longevity and stamina.
Culinary Uses
Fennel is used in different cuisines in the Mediterranean region. The herb has all the capacity of an oxidant to be used as a culinary or food item. One thing to remember is that poisonous hemlock is one species available in the Fennel plant family, which is not an edible plant. Hence only the fennel oil having common genus species and name must be purchased.
Aromatherapy Benefits
Ether anethole is one important composition in Anise and Fennel which makes it suitable for use in aromatherapy. In treating blues, colds and flu, Fennel Oil makes a perfect medication. As part of treatment it is used in making body care products and bath blends for men. It is also aromatically used for spreading woody and spicy aroma in the interiors of homes.
In aromatherapy the oil is utilized in treating rheumatism, anorexia, gout, arthritis, flatulence, neuralgia, exhaustion of the nervous system, aches, pains, nausea, migraines and muscle stiffness. It is also generally used as bath oil, massage oil, in oil warmers and burners, in spa treatments, natural incense, perfume, potpourri, candle making, shower gels, creams and soaps.
Ayurvedic Benefits
In Ayurvedic medicine, it is used for anti aging and as a relaxant. When blended with turmeric, it helps relive blemishes on the skin.
Skin Care Benefits

In skin care it has a toning and cleansing effect on the skin. It can be used to fight wrinkles, treat oily skin and bruises. It helps cleanse the skin from deep within and in the process attain a radiant and clear skin. A safe bet would be to first apply some oil on a patch of skin first to check out any signs of irritation or discomfort. Then only can the person go ahead and use it as per the advice received from a qualified and experienced health practitioner

These statements have not been evaluated by the Food and Drug Administration. This product is not intended to diagnose, treat, cure, or prevent disease.