Fenugreek Oil
Botanical name : Trigonella foenumgraecum
Family Name : Fabaceae
Common Name : Fenugreek, methi,Trigonella foenumgraecum
Flavour Characteristics : Bitter Pungent, Flavour
Usage Profile : Foods, Cosmetics, Medicines etc.
Part Used : Fruit or seed
Specific Gravity: 0.979 to 0.984 @ 20°C
Optical Rotation: 10 to 10.8 @ 20°C
Refractive Index: 1.4890 to 1.4930 @ 20°C
Blends Well With: lavender,rosemary, ylang-ylang,cypress,lemon geranium, etc
Fenugreek oil is obtained from the seed of fenugreek (Trigonella foenum- graecum) and these seeds are known for its health benefits and nutritious qualities. When compared to other seed oils fenugreek oil is not cold pressed oil and it is oil obtained from the seeds. It contains many volatile organic compounds and is widely used in aromatherapy. The procedure used for the extraction of the oil is steam distillation. The seeds of fenugreek are rhombus shaped and are used in cooking and also in medicines since ancient times. Fenugreek has many health benefits and has mention of it in history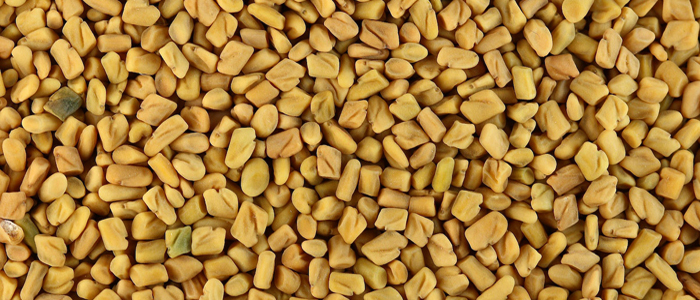 Fenugreek oil is found in the tomb of Tutankhamun and there is mention of fenugreek seeds in ancient medical books also. There are two types of fenugreek oil, fenugreek seed pressed oil which contains healthy fatty acids and fenugreek seed essential oil which contain volatile compounds with exceptional health benefits. There is another type of fenugreek oil called fenugreek infused oil which is prepared by soaking the seeds and other parts of fenugreek in a base oil of your choice and this oil can be made at home itself. Fenugreek oil has many healing properties. As an anti-viral it fights certain kinds of viruses and has some anticarcinogenic properties to fight cancer.
Prevents Free Radical Damage
Fenugreek oil is an antioxidant and prevents the cells from free radical damage. Being a Hypoglycemic it lowers blood glucose and as a Phytoestrogen it impersonates the female hormone estrogen. Fenugreek oil is efficient in boosting the blood circulation in the body and as an anti-inflammatory it reduces inflammation on the skin. Fenugreek oil acts as an able expectorant and helps to release the phlegm from the throat. Fenugreek oil is a known neuro-protective because it protects the nervous system. The oil transforms the functioning of the immune system and is one of the few substances that boost beta cells of the pancreas.
Fenugreek oil acts as a hypotensivee and eases hypertension and is a good galactagogue because it promotes the secretion of milk by the mammary glands. As an antispasmodic fenugreek oil eases and prevents muscular spasms. Fenugreek oil blends well with cinnamon oil and is widely used in aromatherapy. The oil is yellow in colour with a hint of brown and has a powerful aroma which is scented but with bitter tones. Since the healing properties of Fenugreek oil is very good it is widely used in a number of home remedies.
Treatment of Acne
People use it for the treatment of acne. By adding fenugreek oil with jojoba oil people use it for acne by massage this mixture on the face and skin affected with acne pimples. This mixture reduces the inflammation and redness around the pimples and also gets rid of the swelling and pain which comes along with these pimples. This mixture of fenugreek oil and jojoba oil is also good for the prevention of blackheads. Blackheads are formed by oxidation and fenugreek oil being an antioxidant prevents the pimples from oxidizing and creating permanent marks in the face.
Fenugreek is yellow coloured see and is bitter in taste and is widely used for flavour and nutrition in food. Fenugreek is nutritionally rich in potassium, magnesium, calcium and phosphorus. It has a good amount of iron and sodium with small amounts of zinc, copper, manganese and selenium. Fenugreek is rich in vitamin C and other vitamins like vitamin A, B6, thiamine, niacin, folate and riboflavin. The caloric content of fenugreek sees is quite rich and 100 grams of fenugreek has 323 calories and calories from fat are 54. Fenugreek has the power to cure constipation, diabetes, digestive tract irritation, leg ulcers, muscle pain, TB, wounds, indigestion, lack of appetite, gout, inflamed lymph glands and it also have the ability to lower blood pressure.
Cultivated All over The World
The plant of fenugreek or trigonella foenum-graecum is an annual plant belonging to the family of Fabaceae and it has leaves consisting of three small obovate to oblong leaflets. Fenugreek is cultivated all over the world as semiarid crop and the seeds are used as a regular ingredient in Indian dishes. The major countries where fenugreek is being produces are India, Afghanistan, Pakistan, Nepal, Iran, Argentina, Bangladesh, Egypt, Spain, Morocco and Turkey. Out of these India is the largest producer and Rajasthan, Gujarat, Uttar Pradesh, Uttarakhand, Madhya Pradesh, Maharashtra, Haryana and Punjab are the major states producing Fenugreek.
Fenugreek oil is ideal for getting rid of boils and other health conditions like carbuncles, furuncles, cysts, ingrown hair and folliculitis. The oil is great for irritated skin due to environmental stress. It is ideal for dry skin, harsh cold weather or some allergen which makes the skin irritated. A mix of fenugreek oil and olive oil provides relief from swelling like that of hives and itching. Fenigreek oil is an excellent addition to the massage treatment and it can be added to massage oils like almond oil and massaged on the skin. A massage with this mix of oil soothes the skin, relieves inflammation and makes the skin fare better.
Expectorant
Fenugreek oil is perfect to use as an expectorant and it can be taken in the form of a steam. Inhaling the steam of fenugreek oil aids the body in throwing out the phlegm. This inhalation is good for conditions which causes productive cough like bronchitis. The oil is widely used in aromatherapy for helping in many therapeutic actions. One can add about 4 or 5 drops of fenugreek oil to a vaporizer or diffuser or an oil burner to spread the wonderful aroma in the air. The aroma of fenugreek reduces high blood pressure and provides a calming influence on the nervous system.
Fenugreek oil is also good for diabetes by improving the glucose intolerance and lowering blood glucose levels. The oil stimulates the pancreas and reduces damage to beta cells. Fenugreek oil boosts insulin and this is a huge health benefit. Fenugreek oil can be diluted in base oil and one can add 2 or 3 drops to 1 tablespoon of sesame oil and drink it. Fenugreek oil is also good for normal kidney health because it exerts protective influence on the kidneys and the pancreas

These statements have not been evaluated by the Food and Drug Administration. This product is not intended to diagnose, treat, cure, or prevent disease.