Quick Facts

Botanical Name: Plumeria Alba
Family Name: Dogbane
Common Name: Frangipani , Pulmeria
Part used: Frangipani Flowers
Specific Gravity: 1.060-1.110@250 C
Optical Rotation: N/A - its a Greenish to Brown Paste/Wax type

Blends well with: Vetiver, Ylang Ylang, Agarwood, Sandalwood, Cedarwood, Lavender and Bergamot oils.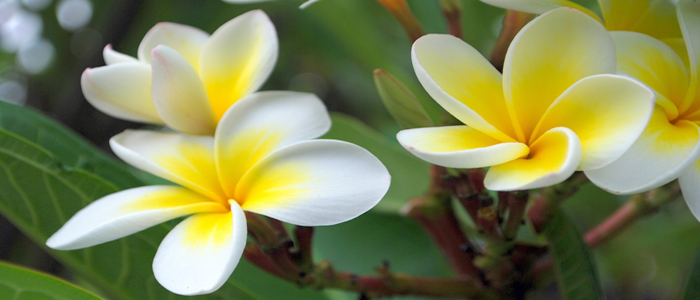 Uses: The Frangipani Absolute cleanses, revitalize the skin and provide deep moisturizing effect on it, This has natural anti aging skin care properties and, is widely used in aromatherapy. In some parts of the world, it is used for the treatment of itches and fevers. Some people use Frangipani for relieving inflammation and relaxing the nerves and muscles due to its aphrodisiac, astringent, antioxidant properties. It works on the emotions of the people who uses it and relieves stress and inspires high self-esteem and romance and it brings feeling of fearlessness and uplifts the overall emotions.

Frangipani has the power to uplift the spirit and nourish the soul. The Frangipani Absolute can be used after bath by applying on the damp skin.
The Frangipani is widely used in manufacturing of high class perfumery products
Countries where it's found: The plant is a native of Central America, South America, Caribbean, Mexico and Brazil and it grows in tropical and sub-tropical regions.
Harvesting Information:
Frangipani flowers grow on deciduous trees which grow as tall as 20 to 25 feet high. The seeds are not commercially available but can be collected from the mature pods. To plant a frangipani seed directly in the soil one has to insert the plump end into the ground and leave the wings protruding above the soil. One can even keep the seeds in between the damp cloth till they sprout. Once the cotyledons appear the plant will come up with its first leaves and the seed sprout in three days to two weeks. The first flowers will appear only after three to five years.
History of Plant: Frangipani plants are the native of South & Central America and were taken to America by the Spanish priests. Frangipanis will burn only in extreme heat over 500 degrees.
Extraction Process: Solvent Extraction
Commonly Known Benefits:
Frangipani absolute when applied as massage on wrists, shoulders, neck and temples, releases an aroma which relaxes the users and others who are experiencing the smell. Use only a drop or two at a time. Adding a drop or two to the warm water while bathing, relaxes the body and mind.
These statements have not been evaluated by the Food and Drug Administration. This product is not intended to diagnose, treat, cure, or prevent disease.