Quick Facts
Botanical Name: Alpinia officinarm/ Alpina galanga
Family Name: Zingiberaceae
Common Name: False Ginger
Part used: Rhizome
Specific Gravity: 0.9003 - 0.9403 at 20 °C
Optical Rotation: -3.50 to -6.50
Refractive Index: 1.4728 - 1.4928 at 20 °C
Blends Well With: Ylang ylang, Clove, Cinnamon
Uses: As indicated in the British Herbal Pharmacopoeia, the oil is beneficial in treating flatulence, dyspepsia, vomiting, motion sickness, colic, and travel sickness.
This oil is used in Indian and Thai soups and curries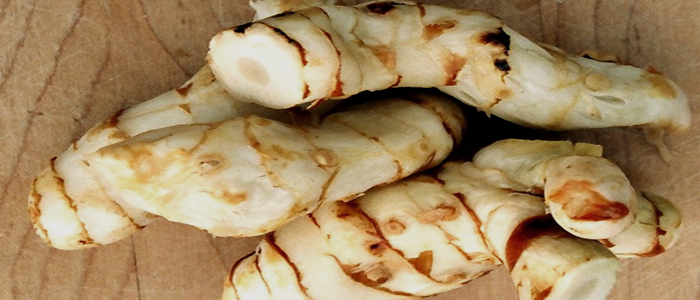 Countries where it's found
The plant is native to southern China and Southeast Asia. The plant is now cultivated in Malaysia, Indo-China, Thailand, Indonesia, and Vietnam.
Harvesting Information
The rhizome is harvested after 10 months of the planting period. Harvesting is best done by dismantling the plant. Galangal is best planted at the beginning of the rainy season.
History of the Plant
The plant was brought from the Middle East and was used during the Crusades in England. The plant was used by the Turks in the 13th century for preparing tea. The oil was reportedly considered magical as it attracted wealth and warded off evil spirits.
Extraction Process
The oil is extracted from dried rhizomes of the plant by steam distillation. The oil is yellow to brown color with a fresh, spicy aroma and bitter taste.
Commonly known Benefits
Health benefits:
Galangal oil consists of anti-inflammatory properties thereby benefiting the treatment of arthritis and rheumatoid arthritis.
The oil curbs sea sickness and nausea.
The oil is rich in anti-oxidants that aid in flushing out toxins from the body and reduce the damages caused by free radicals.
The essential oil of galangal is an effective stimulant. It stimulates blood circulation and relieves body aches, stiffness in muscles and joints.
It is used in various respiratory troubles such as bronchitis, catarrh, asthma, cold, and flu.
It clears sore throat, cough, abdominal inflammations, and ulcers.
The oil is a rich source of vitamins A and C, sodium, iron, phytonutrients, and flavonoids.
The oil is effective against fatigue and dullness.
The volatile compounds in the oil act antifungal and antibacterial agents that are natural antibiotics.
The oil's antispasmodic property is used to inhibit prostaglandin synthesis.
It is a traditional aphrodisiac.
The oil is a natural laxative and helps in the digestion of intestinal fats.
The therapeutic properties of the oil include antiseptic, carminative, stomachic, and diaphoretic, and bactericidal.
The oil also benefits in treating gall bladder infections and tinea versicolor.
In Cancer Research:
Research conducted by King's College in the United Kingdom shows that galangal oil's anti-oxidant and enzyme activation properties could have the potential to act against cancer.
The study showed that isolated chemical from galangal root killed cancer cells and protected healthy cells.
Other Benefits:
The oil is used in Asian cookery as flavoring agent and a spice agent in meat products and liquor.
It is widely used in Thai and Indian curries and soups.
The oil is added in skin care products such as soaps and lotions. It is also occasionally used in perfumes.

These statements have not been evaluated by the Food and Drug Administration. This product is not intended to diagnose, treat, cure, or prevent disease.