Quick Facts
Botanical Name: Ferula galbaniflua
Family Name: Apiaceae

Common Name: Galbanum
Part used: Resin
Specific Gravity: 0.870 - 0.900 at 20°C
Optical Rotation: -10.0 to 0 at 20°C
Refractive Index: 1.473 - 1.503 at 20°C
Blends well with: Oak moss, Opopanax, Fir
Uses: Galbanum oil removes toxins from the body and regulated production of certain hormones that affect sebum production.
This oil has antiseptic and antibacterial properties on wounds, boils, cuts, abscesses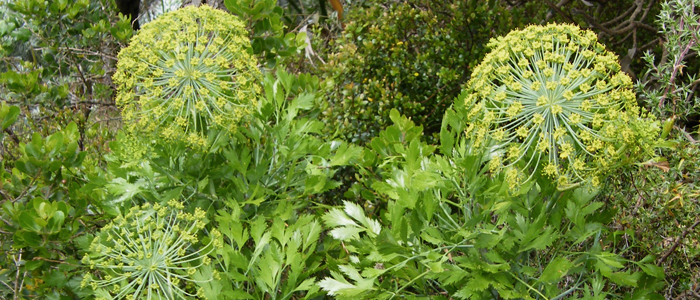 Countries where it's found
The plant is a native to Persia, present day Iran. It now grows in northern India, Turkey, and Afghanistan.
Harvesting Information
The plant is best harvested during the months of July and August for its gum. In Iran, the plant is harvested in the Elburz Mountains near the Turkmen border.
History of the Plant
The plant was used as incense by ancient Egyptians and in Jerusalem. The name "Galbanum" is derived from the Greek word "chalban".
Extraction Process
The oil is extracted from resin through steam distillation. The oil is clear in color with a strong, powerful green odor.
Commonly known Benefits
Health benefits:
The oil is used in skin care and works wonders on wrinkles, aging skin, scar tissue, and acne.
Galbanum oil is used by sports persons and athletes to relax muscles, nerves, and spams.
The fresh and woody aroma of the oil relaxed the mind and soul. It eases nervous tension and stress.
The oil's antiseptic and antimicrobial properties acts quickly on wounds, cuts, boil, ulcers, and abscesses.
Its soothing properties relax muscles, joints, aching hands, and feet.
The Ancient Egyptians and Romans used galbanum oil as a natural muscle relaxant, and as a cough remedy.
The essential oil of galbanum acts as an excellent stimulant and quickens the body's physiological functions and improves poor blood circulation, listlessness, physical fatigue, convalescence, and overall functioning of the organs.
It acts as a rubefacient and aids in dilating blood vessels.
The oil's astringent property reduces skin drying and contracts organic tissues.
In aromatherapy, the oil is used for recovery from depression, anxiety, shock, or trauma.
The oil is a reputed decongestant. It clears bronchial congestion and other congestions' such as nasal, trachea, larynx, and pharynx making breathing easy.
Galbanum oil is effective in the treatment of both claustrophobia and agoraphobia.
The oil rejuvenates mature skin and pulls up sagging skin giving the face uplift. It also clears stretch marks and fat cracks.
The oil promotes leucocytes and platelets crowding in the wounded place. This helps in faster healing of wounds. It also inhibits microbial growth in the wounded area.
Its cicatrisant property benefits in the healing of pimples, pox, scars, acne, and cuts.
The oil rejuvenated the skin by enhancing new cell growth and healing damaged tissues.
Its diuretic property aids in increasing urine flow.
Other benefits:
The oil is used in making perfume because of its rare sweet smell.
The oil's powerful odor is a brilliant insect repellent and used in the making of incense sticks. Further, it also clears ticks, fleas, lice, and bed bugs.
The oil is a good deodorizer and air freshener
These statements have not been evaluated by the Food and Drug Administration. This product is not intended to diagnose, treat, cure, or prevent disease.