Gardenia Essential Oil
Gardenia is a genus and common name of a popular garden and house plant.
The Gardenia has over 60 species of evergreen shrubs and trees, native to the tropical and subtropical regions of Africa, Indomalaya, Australasia and Oceania.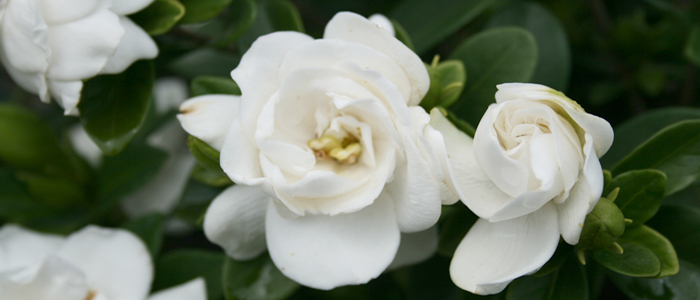 Gardenia plants are prized for the strong sweet scent of their flowers, which resemble white roses. They bloom from about mid-spring through mid-summer. The plant's leaves are dark green and glossy with a leathery texture. The shrub may attain heights of about 6 feet, although many varieties are shorter.
Gardenias have a reputation for being difficult to grow. Because they originated in warm humid areas of Southern China and Japan, they demand high humidity to thrive. They flourish in acidic soils with good drainage. Potting soils developed especially for gardenias are available.
In Japan and China, Gardenia jasminoides is called Kuchinashi the bloom is used as a yellow dye, which is used for food and clothes.
Taking its inspiration from the opulence of the East, Indian Gardenia is a sensual and romantic fragrance characterized by a floral heart of Indian gardenia and a sensual spicy base. Its effervescent top notes are of rose petal, neroli and crisp orange which lead into a floral heart of Indian gardenia, yellow champaca flower, jasmine, lily of the valley and a hint of carnation. This is balanced with sensual base notes of amber, Indian sandalwood and clove, in this concentrated perfume oil.