Quick Facts
Botanical Name: Zingiber officinale
Family Name: Zingiberaceae
Common Name: Ginger
Part used: Rhizome
Specific Gravity: 0.871 To 0.882
Optical Rotation: -28o to -45o
Refractive Index: 1.4880 To 1.4940
Blends well with: Neroli, Rose, Bergamot
Uses: It helps in evacuating the bowels and combats constipation. This oil improves blood circulation. Cancer treatment, health supplements.
Countries where it's found
The plant's cultivation began in South Asia and later spread to the Caribbean and East Africa. Ginger is widely grown in India, Central America, Japan, and China. The largest producers of ginger oil are Sri Lanka, India, Nigeria, and Jamaica.
Harvesting Information
The plant is harvested after 8 to 9 months of plantation. The roots are harvested only after they fully mature and prefer slightly acidic soil.
History of the Plant
Ginger has been used for more than 4000 years. It was brought to Europe in the 10th and 15th century. The word ginger comes from the Sanskrit word "srngaveram" meaning "horn root". The plant has about 1,200 known species.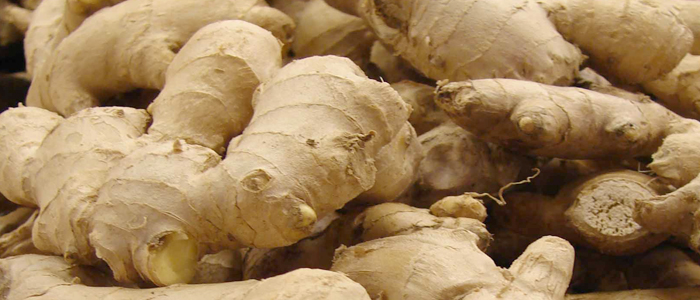 Extraction Process
Ginger oil is extracted through steam distilling or SCFE co2 extraction of the root of the herb. The yield is about 2 to 4 percent. The oil pale yellow in color with a woody, spicy aroma and pungent taste.
Commonly known Benefits
Herbal heritage:
Ancient Egyptians used ginger oil to ward off epidemics, while Arabians used the oil in their staple diet.
The Romans used the oil for its aphrodisiac powers and Chinese doctors prescribed the oil as a tonic for head congestion and heart.
Ginger oil is used by Hawaiians in their foods to cure indigestion.
Health Benefits:
Ginger essential oil provided relief from stomachache, dysentery, diarrhea, colic, indigestion, intestinal infections, and bowel related problems.
The stimulant action of ginger oil is useful in exhaustion and fatigue.
The oil consists of "zingibain" that is an analgesic and is useful in treating arthritis and muscle spasms. Rubbing the oil on aching muscles provided immediate relief.
European physicians prescribe the oil for sore throat, tonsillitis, jet lag, motion sickness.
The oil also wards of cold and fever by inducing sweating.
Ginger oil improves blood circulation. Its topical application on the skin alleviates cellulite and varicose veins.
The oil boots the cardiovascular system. It decreases cholesterol thereby reducing the risk of blood clots.
Ginger oil promotes digestive juice secretions and improves the appetite, relieves gas and heartburn.
Its expectorant property facilitates in the expulsion of mucus from the lungs and throat thereby improving the overall respiratory system. It also tats flu, asthma, and bronchitis.
Being an antiseptic, the oil inhibits the growth of microorganisms on body surfaces.
The oil is used in the treatment of catarrh, bruising, fractures, hangovers, sinusitis, chills, and carbuncles.
In hair care, the oil is effective in controlling dandruff.
In Cancer Research:
The American Cancer Society reported that ginger oil may be beneficial in treating cancer through chemotherapy.
Other Benefits:
The oil is widely used in perfumery particularly in men's colognes.
The oil improves focus and concentration.
It is widely in the food industry for its powerful flavor that adds vitality to any dish.
Interesting information on Ginger
Ginger is an herb with white or yellow blossoms and dark green exits and a stocky root. It is tried after for its aphrodisiacal, appetency simulative, and moisture halter features. It could be discovered in India, Malaysia, Africa, United States, West Indies, and all over the tropical zone. Ginger's essential oil is collected by steam distilment from the root of the plant. Ginger essential oil is utilised for its bactericidal, aphrodisiacal, aperients, simulative and medicine effects.
Ginger essential oil has a savory and pungent fragrance. Ginger works well when fused with Cedar wood atlas, blue gum eucalypt, olibanum, geranium, lemon, calcium oxide, Roman chamomile, rosemary, rose, sandalwood and vetiver grass oil. It has also been utilised to deflect malaria. The Chinese has utilised ginger in their medicines to calve cough from respiratory tract infections, the Chinese also use ginger to fortify the bosom, rheumatoid arthritis.
Aroma of ginger is hot and exhilarating oil inspiring bravery and optimism. It is almost well known for it is appeasement for the digestive system; it is almost valuable in the discussion of upset stomach, journey sickness and morning sickness, gaseous or indrawn. The heating, circulative simulative activity of the oil creates it perfect.
Ginger is also a heating expectorant applying rest from troubles such as recovering from coughing, low temperature, influenza and sinusitis, add a few to a drops in blending, vaporizer or thorax chafe. It also comforts the troubled system of rules to relieve infirmity and troubled debilitation.
These statements have not been evaluated by the Food and Drug Administration. This product is not intended to diagnose, treat, cure, or prevent disease.