Hazelnut Essential Oil

Botanical Name- Corylus avellana
Habitat Region- USA
Extraction Process- Cold Pressed
Shelf life- 8 months

Hazelnut or botanically named as Corylus Avellana is a light yellow colored herb. Hazelnut is used to carve essential oil, but its essential oil is pretty different from others. Its fragrance is very characteristic and can be easily identified.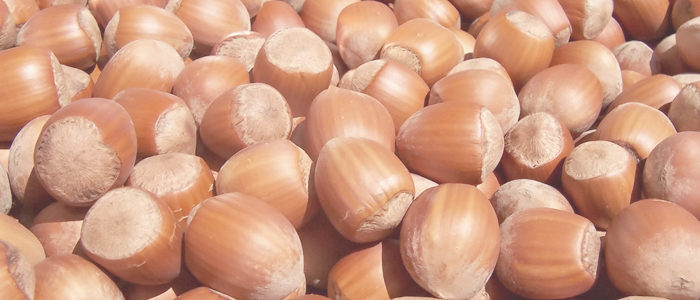 Hazelnut: Descriptions

Hazelnut contains fatty acids- oleic acids, palmitic acids, linoleic acids. Oleic acid is 71-91%, palmitic 3.06-10.06%, linoleic acid-13%. It also has free fatty acids 0.3%.
Find below the hazelnut descriptions:

Specifications
Color- Light Yellow
Odor- Characteristic
Non-Saponifiables-
Saponification Value- 188-198
Iodine Value- 87.2
Specific Gravity- 0.9445
Free Fatty Acids- 0.3%
Peroxide Value- 10 max

Fatty Acids
Oleic- 71-91%
Palmitic- 3.06-10.00%
Linoleic- 13%
Hazelnut Oil: Extraction Process
Hazelnut Oil is carved through cold pressed process or unrefined process. The hazelnut parts are crushed with a heavy weight to extract the oil. The resultant is later processed and refined to get the pure and usable oil.
Hazelnut Oil: Benefits
Hazelnut contains astringent qualities which make it best suited to those who have oily skin and don't want to use oils. Hazelnut is a great essential oil which can give you utmost comfort and relaxes.

Precautions
Avoid the hazelnut oil from high temperatures and direct light.