Quick Facts
Botanical Name: Corylus avellana
Family Name: Betulaceae
Common Name: Filbert Nut, Cobnut
Part used: Nut
Specific Gravity: 0.905-0.925 at 25 ˙c
Optical Rotation: N/A
Refractive Index: 1.470–1.473 at 25 ˙c
Blends well with: Avocado, Macadamia,
Uses: Beta-sitosterol, found in hazelnut oil, is helpful in fighting cancer especially breast and prostate cancer.
This oil if regularly massaged on skin helps in cell regeneration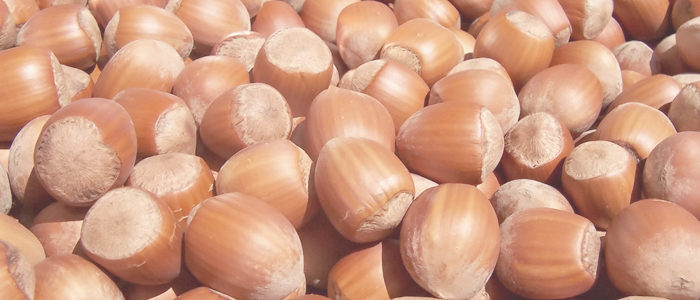 Countries where it's found
The plant is native to the United States. Today, Spain, Turkey, Italy, Greece, USA, China, and Japan are leading producers of hazelnut. Turkey is the largest producer of the oil producing about 75 percent of world production.
Harvesting Information
Hazelnut is best harvested annually in mid-autumn. Harvesting is done either by hand or manual or by mechanical raking. Hazel is widely cultivated for its nuts. Hazel orchards are harvested three times in a year depending on the quality of nuts and the rate of nut drop.
History of the Plant
Hazelnut is nearly 9000 years old and has been known from the Mesolithic age. The plant was found in Scotland on the island of Colonsay.
Extraction Process
Hazelnut oil is obtained from the nut through the cold pressed process or unrefined process. The nut is crushed with heavy weights to obtain the oil. The oil is light yellow in color with a nutty, sweet aroma.
Commonly known Benefits
Health benefits:
Hazelnut oil has a unique fatty acid composition, low temperature properties, and thermal stability.
The antibacterial property of the oil prevents excess oil secretions, thus maintaining a soft skin.
The essential oil of hazelnut is rich is beneficial in rejuvenating the body. It is used as carrier oil in aromatherapy, and offers relief from physical and mental stresses.
Regular massages with hazelnut oil loosen tired nerves, help with cell regeneration, and strengthen the capillaries.
Compounds such as oleic acid found in the oil reduce blood cholesterol level, reduces blood sugar level, increases protective Apapratein A1 and decreases harmful Apapratein B.
Hazelnut oil is rich in vitamins B1, B2, and B6 that are essential in mental health and blood formation, especially in children.
The oil is a rich source of vitamin E that is essential for healthy heart muscles. Vitamin E in the oil prevents the disintegration of red blood cells thereby offering protection against anemia.
Hazelnut oil massage is effective in children who suffer from respiratory problems.
The oil is rich in protein content and helps in faster healing of wounds.
It tones and moisturizes the skin, leaving the users with a tight and younger looking skin.
The presence of linoleic acid in the oil inhibits the growth of microorganisms on the skin surface.
Other benefits:
Culinary Use: Hazelnut oil is used in salad dressings and in baked goods.
It is also used as cooking oil.
Its astringent property is essential in a number of skin care products. In aromatherapy, it is used in skin nourishment.
The oil is used in the preparation of creams, lotions, soaps, and hair care products.
The oil has a shelf life of up to one year when stored away from direct sunlight.
These statements have not been evaluated by the Food and Drug Administration. This product is not intended to diagnose, treat, cure, or prevent disease.