Jasmine Grandiflora Essential Oil
Jasmine Grandiflora - A little flower with intense fragrance
J.Grandiflorum is also known as Spanish or CATALONIAN Jasmine ironically originating from the north-west Himalayas despite its term. Today, it is cultivated in all the parts of the globe, very much similar to J.officinale. J.Grandiflorum can be easily identified with its shorter leaflets and shorter branches.

J.Grandiflorum is one of the most prominent and loved perfumes as it has the most unique and mesmerizing fragrance! Its exquisite fragrance is very natural and for this attribute, J.Grandiflorum is termed simply incomparable.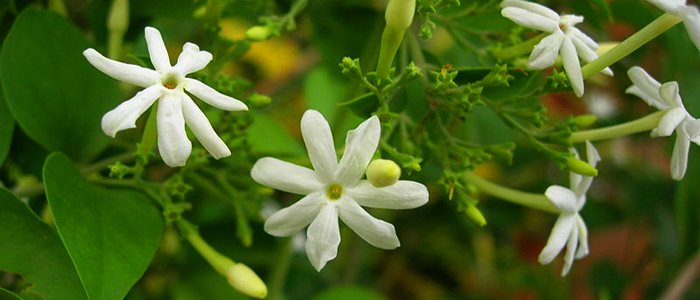 Where's Cultivated?
Jasmine is widely cultivated at Cannes and Grasse. The plant does not grow on its own support, but requires grafting on plants like J.officinale which is an erected bush that can grow up to 3 feet (it does not require support to grow). The plants need full exposure to the sun and fresh oil.

Jasmine flowers blossom from July season to October. The flowers are very fragrant and can be easily identified. The particular thing about flowers is that they open in morning around 6'O clock. 500lb weighing of Jasmine blossoms can be grown in area of acre.

Only threat to the Jasmine fields is a fungus called Agaricus Melleus. One must be aware of this fungus otherwise it can destroy the complete field.

Jasmine can not be cultivated twice in a series on the same land. One needs to use field fallow method or replace the crops with roses or olives.

It's Extraction Process
The extraction method from Jasmine is said to be enfleurage that means absorption by a fatty body like purified olive oil or purified lard. You need fresh flowers to extract the oil or perfume.However, fresh oil is only processed from the flowers as solvent initially present.

Spread glass trays (square) mainly wooden framed having depth of 3 inches along with grease that is 0.5 inch in thickness. Ensure that ridges are easy to permit absorption. Later it is sprinkled with fresh flowers generally replaced every morning with fresh blossoms. Piled up trays need to be put into stacks as for prevention from evaporation of fragrance thence finally the pomade is worn off the glass and melted as much low temperature is possible.

When oil is employed as the absorbent, coarse cotton cloths previously saturated with the finest olive oil are laid on wire gauze frames, and are repeatedly covered in the same manner with fresh flowers. They are then squeezed under a press, yielding what is termed huile antique au jasmin. Three pounds of flowers will perfume 1 lb. of grease. This is extracted by maceration in 1 pint of rectified spirit to form the 'Extract.'

After the employment of oil as an absorption, coarse cotton that's been just saturated with the quality olive oil is spread on frames called wire gauze frames and the densely covered in same forms with fresh flowers. Squeeze the entire under a heavy press to ultimately get huile antique au jasmine. You need almost three pounds of flowers to extract 1lb of grease. This extraction is gained by maceration in 1 pint of cleansed spirit.

Another process of extracting Jasmine oil is through petroleum spirit and low temperature evaporating the solvents. However it's very tough to extract larger quantity of aroma due to its unique process which kills flowers at once.

Its Constituents
The essential oil of J. grandiflorum is composed of methyl anthranilate, indol, benzyl alcohol, benzyl acetate, and the terpenes linalol and linalyl acetate.