Kewra Essential Oil
Kewra flowers have a sweet, perfumed odour with a pleasant quality similar to rose flowers, but kewra is more fruity. The watery distillate (kewra water, pandanus flower water) is quite diluted; it can be used by the teaspoon, often even by the tablespoon.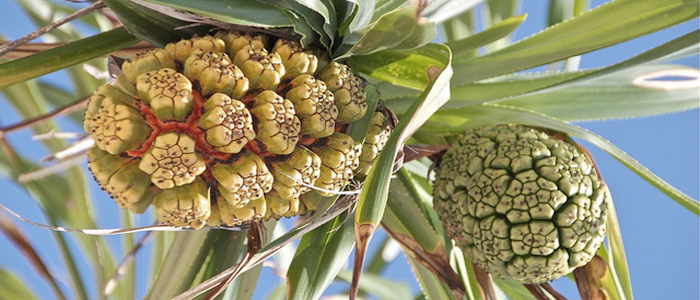 The essential oil from pandanus flowers is dominated by 2-phenylethyl-methylether (ß-phenyl ethyl methyl ether, 60 to 80%); minor components are the free alcohol, 2-phenylethanol (ß-phenyl ethyl alcohol) and its acetic acid ester; 2-phenylethanol is also an important aroma component in rose water. Because it is well soluble in water, 2-phenylethanol can be captured in watery distillates quite easily (Indian Perfumer, 36, 93, 1992). Furthermore, monoterpenes have been found to contribute to the fragrance. The most important terpene in pandanus flowers is terpinene-4-ol (up to 15%); furthermore, a-terpineol, ?-terpinene and dipentene have been reported.
The ripe fruits of P. tectorius owe their scent to an essential oil dominated by esters: Besides geranyl acetate, a couple of hemiterpenoid esters were found: isopentenyl (3-methylbut-3-enyl) and, to a lesser degree, dimethyl allyl (3-methylbut-2-enyl) acetates and cinnamates. (Phytochemistry, 43, 1277, 1996)
Various species of the genus grow in tropical regions of Southeast and South Asia; some of those have fragrant leaves. The species most important as a source of kewra water is P. odoratissimus, which is native to South and peninsular South East Asia; it is much cultivated on the Indian East coast (Orissa).
Pandanus fruit (P. odoratissimus)
A closely related species is Pandanus tectorios Parkinson with a more Pacific distribution from Australia to Polynesia. Its flowers are fragrant, but it is not used for the production of kewra water.
Some other Pandanus species are valued because of their edible fruits or their strong leaves, which can be used for plating.
Etymology
See pandanus leaves. The English term screw tree and its analogues in many European languages are motivated by the arrangement of leaves typical for the genus.