Quick Facts
Botanical Name: Melissa officinalis
Family Name: Lamiaceae
Common Name: Common balm, balm, Lemon balm
Part Used: Flowers, Leaves, stems
Optical Rotation: 1.472
Refractive Index: 1.475 to 1.490 at 20 degree Celsius
Specific Gravity: 0.878 to 0.890 at 25 degree Celsius
Blends Well With: You can blend it with Lavender, petit grain, rose, citrus and Neroli oil.
Uses: It has an antibacterial and antiviral property.
This oil also cures various health problems like fever, headache, chronic cough and bronchitis etc.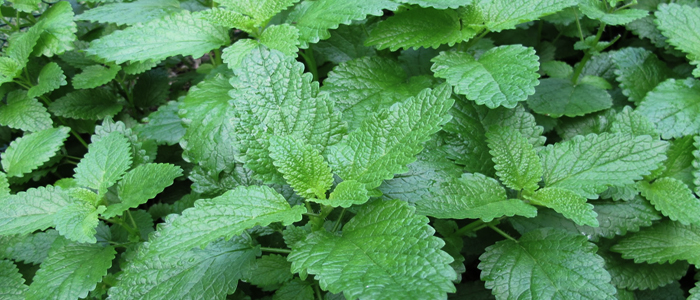 Countries where it's found
The largest producers of this lemon balm are USA, Hungary, Egypt and Italy.
History of the Plant
Lemon balm (Melissa) has come from the Greek word "bee" because its flowers attract bee which produces honey from the juice of its flower. It is cultivated in the Mediterranean region around 2000 yrs. In 16th century Lemon balm was used to encourage a bee to produce honey in beehives. So it had a great impact on the historical events. Now it is used all over the world for decorating food, making dishes, medicines etc.
Extraction Process
There are two ways to process which extraction of lemon oil will take place. One is "soaking method" and the second method is "cold pressing method". In the first method the leaves of lemon balm herb are soaked with the carrier oil. This carrier oil can be any oil like almond oil, sesame, apricot or olive oil. When this method is completed the carrier oil contains the properties of lemon balm herb which is used in many treatments of viral infection. The carrier oil is carefully chosen for its skin healing properties as well.
The second method is cold pressing method. This is the best method used worldwide because it does not do any damage to herbs or its stem. The Lemon balm is soaked in the carrier oil over 6 to 8 weeks. After this the herb is strained off. The extract which is left, is pure lemon oil.
Commonly known Benefits
1.The lemon balm leaves works as a mosquito repellent if you crush them and rub them on your skin.
2. The lemon balm oil carries a very effective agent which helps to reduce stress, depression and eczema.
3. The oil of lemon balm is very famous and used as a key product in aromatherapy. This is also co-distilled with different oils for innovative results. The oils which are blended with this oil are lemon oil, citronella oil etc.
4. This lemon balm oil has a good fragrance and because of this reason, it is used in much soap,
5. It is written in the scientific journal Endocrinology that lemon balm shows antithyrotropic action, which inhibits the TSH to attach itself to the receptors of TSH. This shows that this lemon balm can be used in the treatment of Graves' disease or hyperthyroidism.
6. The lemon balm consist a compound called as eugenol. This is very effective in killing bacteria. It is also used to calm the numb tissues and muscles. Tannus is also found in the lemon balm it contributes in the antiviral effects.

These statements have not been evaluated by the Food and Drug Administration. This product is not intended to diagnose, treat, cure, or prevent disease.