Quick Facts
Botanical Name: Macadamia integrifolia
Family Name: Proteaceae
Common Name: Macadamia, Macadamia nut
Part used: Macadamia nut
Specific Gravity: 0.8940 to 0.9140 at 20 degree Celsius.
Refractive Index: 1.4510 to 1.710 at 20 degree Celsius
Optical Rotation: -32.0 to -18.0
Blends well with: Argan oil
Uses: It is considered that Macadamia oil is near to perfect oil because it is very nutritious. It is a great source of various vitamins like vitamin C, B complex, phosphorus and iron. It is very good because it contains a large amount of omega 7 fatty acids in the form of palmitoleic acid.
Palmitoleic is also present in our skin but as we age the amount of this acid also decreases. This oil increase palmitoleic level in our skin during old age.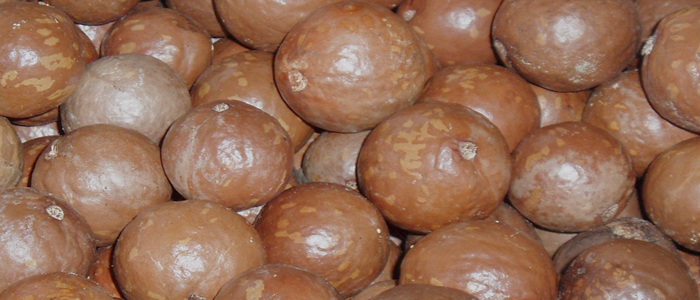 Macadamia: Description
Macadamia can be easily identified with its golden color. It exhibits a mild nutty sort of fragrance along with sweet undertones. Macadamia contains fatty acids like oleic acids, plamitoleic acid, linoleic acids. Find below the detailed descriptions of Macadamia:
Fatty Acids
Oleic- 59.22%
Palmitoleic- 19.01%
Linoleic- 2.84%
Linolenic- 1%
Free Fatty Acids- 0.25%
Peroxide Value- <0.5%
Non-Saponifiables-
Saponification Value- 190-200
Iodine Value- 70-80
Specific Gravity- 0.92
Method of extraction: Expeller Pressed/Unrefined
Macadamia is extracted through expeller pressed/unrefined process. In the process the nuts are pressed to extract define oil.
Macadamia: Uses and Benefits
It is used for skin protection and treating disorder like scars, sunburns, minor wounds and other irritations.
Caution
Just make sure that you use quality oil. The crude oil is very sensitive to light so protect it from direct exposure to sun and heat.
These statements have not been evaluated by the Food and Drug Administration. This product is not intended to diagnose, treat, cure, or prevent disease.