Quick Facts
Botanical Name: Myristica fragrans
Family Name: Myristicaeae
Common Name: Jaiphal, Myristica, Muscdier, Myristica fragrans, Noz moscada,Muskatbaum, Nuez moscada and Nux moschata
Part used: Seed
Specific Gravity: 0.880 - 0.930@200C
Refractive Index: 1.4740 - 1.4880@200C
Optical Rotation: +8 - (+)25
Blends Well With: Mace oil blends well with many essential oils like Oak moss, Lavandin, Bay leaf, Peru balsam,Orange, Geranium, Clary sage, Rosemary, Lime, Petitgrain, Mandarin and Coriander
Uses:
Mace is bright red to purple in colour when harvested and after drying it changes to amber. Mace oil is widely used in foods especially in desserts in India and is considered as aprecious herb with many medicinal properties. It is considered as a cure for much health related problems and one of them is piles. Mace oil is an aromatic,stimulant, sleep inducing when taken in large quantities, carminative,intoxicating, digestive tonic and aphrodisiac also. Mace oil is good for problems like flatulent dyspepsia, nausea, diarrhoea, dysentery and even rheumatic complaints. Mace oil is excellent for the natural treatment of headaches. It is used widely in aromatherapy and for headaches it can be applied directly on to your temples or it can be worn as a perfume also. Maceoil is used in the food and beverage industry and also in the pharmaceutical industries. It is a great stress reliever and it has the scent of the freshly grated nutmeg. It has many analgesic properties and is used widely as massage oil for aches and pains.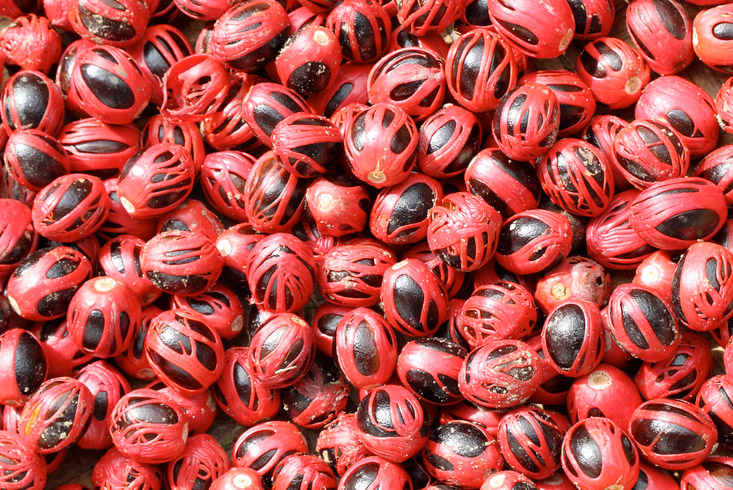 Countries where it's found:
Mace is a native of the Molucca Island and is widely cultivated in the West Indies, Sri Lanka and Indonesia.
Harvesting Information:
The mace tree grows well in hot and humid climates of the tropical regions. The plant is cultivated by sowing the seeds in nursery beds for six months and later on these plants are transplanted. It takes 5 years for the tree to flower and it takes 15 years for the tree to reach full maturity. The mace oil is made by steam or water distillation of the dried orange aril or husk.
History of the Plant:
Until the mid-19th century, the small island group of the Banda Islands, also known as 'Spice Islands', was the only place of production of the spices nutmeg and mace in the world. The Banda Islands are situated in the eastern part of the Indonesia, in the province Maluku. It consists of eleven small volcanic islands, called Neira, Gunung Api, Banda Besar, Rhun, Ai, Hatta, Syahrir, Karaka, Manukan, Nailaka and Batu Kapal, and the place has an total approximate land area of 8,150 hectares.
Extraction Process:
Mace oil is extracted by steam distillation of the kernel seed.
Commonly known Benefits:
Mace oil is used as an ingredient in making soaps, lotions, detergents, cosmetics and perfumes. Mace oleoresin is used in perfumes and colognes for men and also in alcoholic ad soft drinks. It is widely used in diffusers, potpourri, air fresheners, perfume oils, aromatherapy products, bath oils, towel scenting, light rings, facial steams hair treatment and laundry.
These statements have not been evaluated by the Food and Drug Administration. This product is not intended to diagnose, treat, cure, or prevent disease.