Marigold Essential oil

Marigold is one of the loveliest flowers in the world globally reckoned for its effectual attributes. Marigold is the primmest ingredients for salves, cosmetics like facial creams and so on. Marigold inhibits several medicinal attributes as well. It is pretty cool and soothing to the skin.
Marigold also known as Calendula officinalis (LINN.) is highly valued in medical sciences. The oil carved from marigold can cure skin damages, inflammations, diaper irritations and several skin problems. That is why, the oil is considered to be the best baby oil and for skin nourishments.

Caltha officinalis. Golds. Ruddes, Mary Gowles. Oculus Christi, Pot Marigold, Marigold., Fiore d'ogni mese. Solis Sponsa, are some of the names of marigold, famous in variety of places.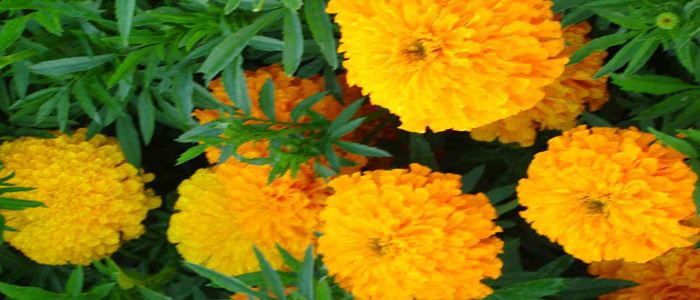 Marigold Essential Oil: Its Cultivation

Originally, Marigold belongs to the southern parts of Europe. However, it is widely cultivated nowadays. April or the early summers are the best time to sow the seeds, ensuring half-sunny areas. Marigold plant does not require any special method of farming; just one has to make sure that it is saved from weeds and pests. In the mid summers i.e. the month of June, plants will start flowering. The flowering continues until the frost ends them up. If one allows the marigold flower to grow on own, they may keep increase without any hassle. Amidst all the types of flowering of marigold, only deep orange flowered variety contains medicinal value.
For extraction of oil, stems and flowers are used.

Marigold Essential Oil: Medical Uses and Actions

Marigold is one of the ancient herbs used in several remedies. Being easily available, Marigold is also called as the cheapest and local medicine. Marigold can be used in several forms for curing different diseases. If marigold is taken with boiled water, it can cure chronic ulcer and disease like varicose veins. Even it can be beneficial in disease like jaundice.
If you are suffering from pain and swelling due to bee's sting, apply marigold oil and see the difference. Oil minimizes pain in minutes. Today, there are several lotions are prepared to cure diseases like sprains and inflammations. Also, taken with distilled water, it can be effective on sore eyes.
In mild fevers, smallpox, measles and other diseases, marigold flowers are used. The flowers can also cure several child diseases effectively.
If you are having severe cold and cough, then use marigold. It's strong fragrance can extract mucous stored in head, as it will excite to sneeze.