Botanical Name: Mentha arvensis
Family Name: Lamiaceae Mint
Common Name: Menthol
Part used: Leaf
Specific Gravity: 0.890
Blends well with:
Menthol small crystals blends well with Basil, Bergamot, Cajeput, Cedarwood, Cypress, Eucalyptus, Lemon, Lime, Mandarin, Marjoram, Niaouli, Pine, Rosemary, Spearmint and Thyme oils.
Uses:
Menthol has a strong, refreshing and minty fragrance and is a good stimulator of the cold sensation of the skin and provides excellent cooling sensation. It is used for fighting bad breath and eases nausea and is good for the digestive system. Menthol small crystals are used in many application like the oral healthcare including toothpastes, mouthwashes etc because of its cooling properties. It is used as food flavor in confectionary products, beverages and medicines like decongestants and analgesics and used as a flavor in many cigarette brands also. Menthol can be used as an inhalant as it is and can be incorporated into recipes. By adding some drops of the menthol to a bowl of hot water and inhale it through the mouth to reduce the stuffiness of the nose and it is good for bronchitis also. In India it is used as local painkiller and counter irritant. It is sued for muscular pains, injuries and other similar problems.
Countries where it is found: India and China. More than half of the total world production is done in India.
Harvest Information:
Menthol crystals are produced through mint essential oil extraction. The oil is quick frozen and the menthol is crystallized out. The crystals are similar to the rock crystals and white in color with cool minty fresh odor. The crystals are soluble in oils and alcohol.
History of Plant:
The plant mentha arvensis is a native of the temperate regions of Europe and Western and Central Asia, east of Himalayas and eastern Siberia and North America. The word mint derives from the Latin word menthe and Greek word minthe. It is suppose to have derived from the pre-Greek language.
Extraction Process: The oil is extracted from the partially dried leaves of the plant. From this oil the menthol crystals are prepared by chilling (cold extraction) at different temperatures.
Commonly Known Benefits:
Menthol is good as a solution for many organic treatments. It has antifungal and antibacterial activity. It is used in medication balms, lotions, and shampoos, eating gums, coughing falls, treated sebum, teeth insert and candies. It is good if mixed with any carrier oil and rub over the chest for relief of stress, nervousness, anxiety and general mood. By diluting with carrier oil it can be applied directly on open wounds, sunburn, skin problem areas etc. Mix it with perfume or other essential oils for fragrance and aromatherapy. It can be mixed with bathing water for the calming effects. It can be used as a topical analgesic alone or combined with chemicals like camphor, eucalyptus oil or capsaicin to relieve aches and pains like cramps, sprains, headaches and similar problems. Popular products like Tiger Balm or Icy Hot uses the menthol small crystal in their products.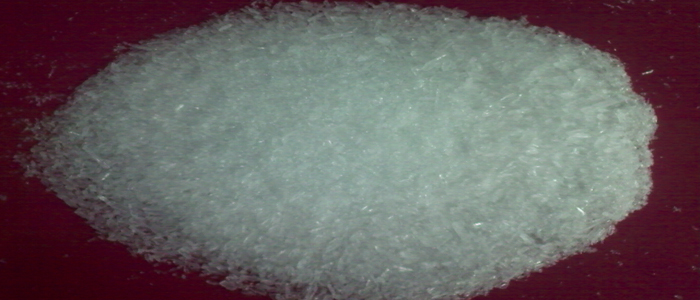 These statements have not been evaluated by the Food and Drug Administration. This product is not intended to diagnose, treat, cure, or prevent disease.