Quick Facts
Botanical Name: MoringaOleifera
Family Name: Moringaceae
Common Name: Moringa, Horse Radish Tree, Drumstick Tree, Sahijan, Ben oil or Behenoil.
Part used: Seed
Specific Gravity: 0.912-0.922 @20°C
Refractive Index: 1.465-1.470 @20°C
Optical Rotation: +0.4° to 0°
Blends Well With: Moringa oil blends well with all essential oils, cananga,cinnamon, labdanum, olibanum and patchouli.
Uses:
Moringa oil fights dandruff and splits ends which are the common problems found. The minerals and vitamins present in it makes the hair stronger and also fight dandruff and spilt ends and makes the oil one with great healing properties ideal for hair care. There are many health benefits too for the moringa oil and it is popularly known as a super food across the world. It is rich in vitamin C and this oil can be used in regular cooking because it provides stronger immunity. Moringa oil has many anti-oxidants packed in it and it helps you gain energy and keeps you fresh. Moringa oil is a great cure for insomnia and it induces good sleep and helps lower and control blood pressure. It protects bones and soothes the nervous system. It provides nourishment and protection to the bones and soothes the nervous system and helps create good cholesterol in the body. Moringa oil is good for conditioning dry and chapped lips and is also used to treat rough dry skin problems like dermatitis, eczema and psoriasis. Moringa oil has hormones called cytokinins in it which is good for the promotion of cell growth and it delay damage and destruction of skin tissues. The vitamin C present in the oil stabilizes the collagen and helps reduce the fine lines and repair damaged skin cells. The anti septic and anti-inflammatory properties of moringa oil is famous and it has been used to treat and heal small skin abrasions, cuts and scrapes, burns,rashes, sunburn and other skin infections.
Countries where it's found: India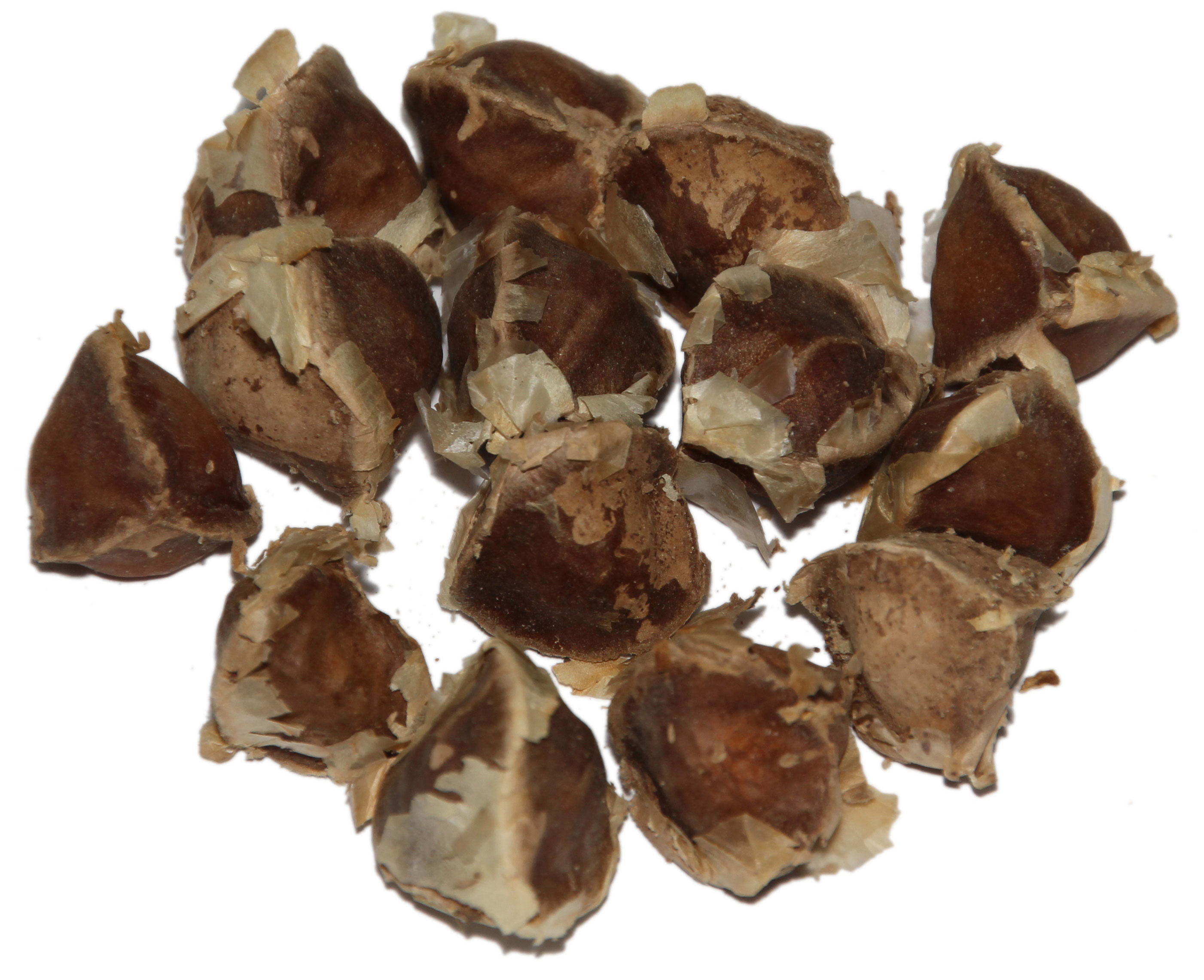 Harvesting Information:
The moringa tree is grown mainly in semiarid, tropical, and subtropical areas and it tolerates a wide range of soil conditions, but prefers a neutral to slightly acidic (pH 6.3 to 7.0), well-drained sandy or loamy soil. Moringa is a sun- and heat-loving plant, thus does not tolerate freezing or frost. Moringa is particularly suitable for dry regions, as it can be grown using rainwater without major irrigation techniques.
History of the Plant: Moringa oil is extracted from seed part of Moringa oleifera tree, which is a leafy tree species that is native to Himalayas. The seeds which are harvested from pods yield around 35–40% of non-drying Moringa oil which is also called Ben oil or Behen oil.
Extraction Process: The oil is extracted using Cold Pressing method and the oil extracted is clear and odour less.
Commonly known Benefits:
Moringa oil is extracted from the seeds of Moringa Oleifera tree and it extremely rich in phyto-nutrients which can have a great impact on the overall health. It is known for its exceptional benefits which includes skin and beauty care. Moringa oil is widely used in the cosmetic products because of the important properties and the anti aging benefits. It is known for its anti aging properties and it helps remove wrinkles and prevents the sagging of facial skin. It is filled with antioxidants which slow down the aging process and control the activity of the free radicals. It provides the skin a natural glow by purifying it and helps fight skin fatigue and oil secretion.
These statements have not been evaluated by the Food and Drug Administration. This product is not intended to diagnose, treat, cure, or prevent disease.