Neem Leaf Co2 Extracted - Soft Resin / Sticky Paste
Botanical name of Neem is Azadirachta Indica. Neem is cultivated in the organic method mainly in India. Neem is an evergreen tree found in the Indian Subcontinent. Gradually it was introduced to many tropical regions. All parts of the Neem plant are used in treating various health conditions and ailments. Color of Neem varies from bright red, golden yellow, greenish brown, yellowish brown, dark brown or reddish brown. Triterpenoid compounds and triglycerides present in the neem a bitter taste. It has a strong garlic like fatty notes. SCF Extracted Neem has a shelf life of at least three years. It is formulated with surfactants so that it becomes naturally hydrophobic and eulsifies very well in water for different application purposes. In general, Neem is an excellent for health.
Also known as the Margosa or Azadirachta tree, Neem is a humble tree that is a powerhouse of beneficial properties to maintain good health. Right from its leaves, roots, seeds and bark, the entire tree proves to be a magic potion for health. Seeds are enriched with a whole lot of medicinal properties.
Extraction Method
Neem Co2 Extract is extracted by the SCFE CO2 method. Carbon dioxide is used at critical temperatures and pressures to extract vital ingredients from Neem leafs. In the extraction method high temperature or harmful ingredients are not used at all. Extract obtained as a result is concentrated Neem extract that resembles the herb, closely. There are various reasons for extracting Neem components by the SCFE extraction.
First of all the process is superior as compared to the conventional method. Phytochemicals get damaged in the conventional method. Also chemical solvents like propylene glycols, acetone and petroleum derivatives, besides heat and alcohol are used causing damage to phytochemicals. In the SCFE CO2 method, soluble phytochemicals are delivered to the extract in a broad spectrum. This extraction method yields, hundred percent natural and pure Neem extract.
Blending Abilities
Neem blends well with all citrus oils.
Chemical Properties
Neem has anti inflammatory, antipyretic and analgesic properties. It's effects are high against different human fungi like trichopthyton, trichosporon, candida, geotricum, epidermophyton and microsporum. Due to its immune-stimulant activity it can increase defense mechanism in the human body, fight infectious organisms and foreign substances in the body. It is an effective spermicide as indicated in research studies. It can also help prevent pregnancy.
It is used as an effective biological miticide, fungicide and insecticide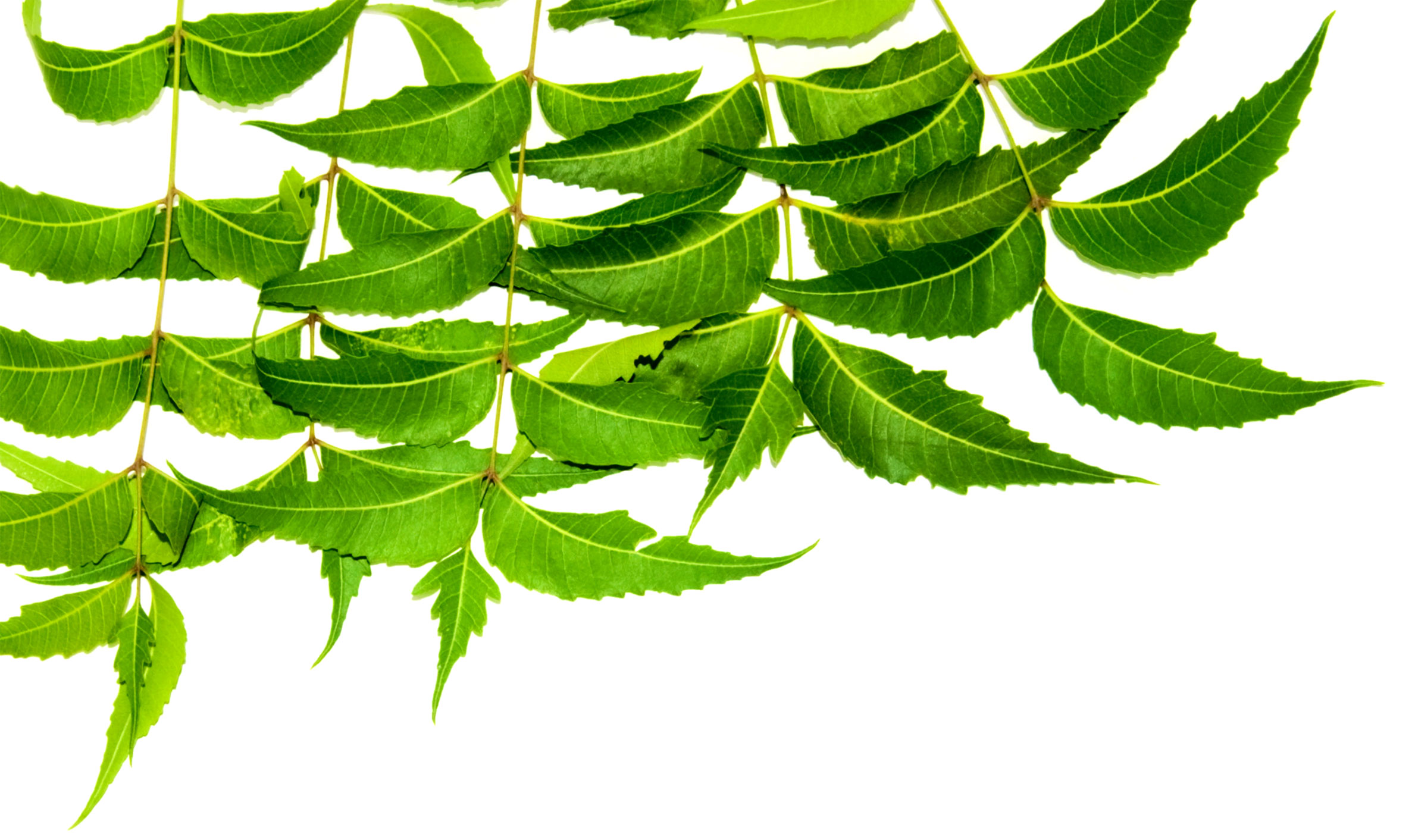 Benefits
Neem extract has many cosmetic, toiletry and therapeutic uses. Products made from Neem are used in making repellents, growth disruptors, bio pesticides and anti- feedants. It has been used as general tonic, in controlling respiratory disorder, in constipation and leprosy in folklore. Besides this it is used in treating, cold sores, ringworm, skin ulcers, rheumatism, skin infection, athlete's foot, cold sores, eczema, burn wounds that are infected, psoriasis and warts. It is used externally for topical treatment. In many pharmacological applications and cosmetics, it is widely used.
Ayurvedic Use

In Ayurveda, it is a practice to use Neem for its anti fungal, antiviral and antiseptic, anti inflammatory and antibacterial benefits. This is is used as a main ingredient.
In Ayurveda the oil is use to treat intestinal and stomach worms, urine disorders and urine infection. Immunity in the body can be improved by adding a few Neem oil drops to a boiling concoction of pepper corn, Tulsi leaves and ginger and then sip it slowly for best effects

These statements have not been evaluated by the Food and Drug Administration. This product is not intended to diagnose, treat, cure, or prevent disease.