Nutmeg Oleoresin
Family - Myristicaceae, Synonyms - Myristica (oil), Mace (husk), Macis (oil)
Herbal/Folk Tradition - Widely used as domestic spices and have been used for centuries as a remedy mainly for digestive and kidney problems. Current in the British Herbal Pharmacopeia for flatulent dyspepsia, nausea, diarrhea, dysentery, rheumatism.
Aromatherapy/Home Use -- Large quantities are hallucinogenic and excitant to the motor cortex. Nutmeg is probably safer to use than mace. Use in moderation and with care in pregnancy. Circulation, muscles and joints - arthritis, gout, muscular aches and pains, poor circulation, rheumatism.Digestive System - flatulence, indigestion, nausea, sluggish digestion. Immune System - bacterial infection. Nervous System - frigidity, impotence, neuralgia, nervous fatigue.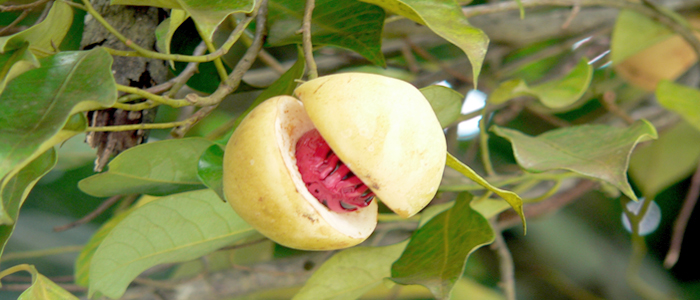 Other Uses - flavoring agent especially analgesic and tonic preparations. Soaps, lotions, detergents, cosmetics, perfumes. Mace oleoresin used in colognes, perfumes, Both oils and oleoresin are used in most major food categories.
Distribution - native to the Moluccas, cultivated in Sri Lanka, West Indies, Granada.
Extraction - essential oil by steam (or water) from : 1. dried worm-eaten nutmeg seed, 2. dried orange-brown aril or husk - mace 3. oleoresin by solvent extraction from mace
Characteristics - 1. water-white or pale yellow, mobile liquid with a sweet, warm-spicy odor and a terpeney top note. 2. water-white or pale yellow mobile liquid with a sweet, warm-spicy scent. 3. orange-brown viscous liquid with a fresh, spicy-warm, balsamic fragrance. Has good masking power. Blend well with oakmoss, lavandin, bay leaf, peru balsam, orange, geranium, clary sage, rosemary, lime, petigrain, mandarin, coriander and other spice oils.
Actions - analgesic, anti-emetic, antiseptic, antirheumatic, antiseptic, antispasmodic, aphrodisiac, carminative, digestive, emmenagogue, gastric secretory stimulant, larvicidal, prostglandin
Safety Data - Nutmeg and mace are generally non toxic, non irritant and non-sensitizing. However, used in large doses they show signs of toxicity such as nausea, stupor and tachycardia.
These statements have not been evaluated by the Food and Drug Administration. This product is not intended to diagnose, treat, cure, or prevent disease.