Pine Oil
Botanical Name: Pinus sylvestris
Method of Extraction: Steam distilled
Parts Used: Needles
Note Classification: Middle
Aroma: Strong, dry-balsamic, turpentine-like
Largest Producing Countries: Hungary, USA, Russia, and Finland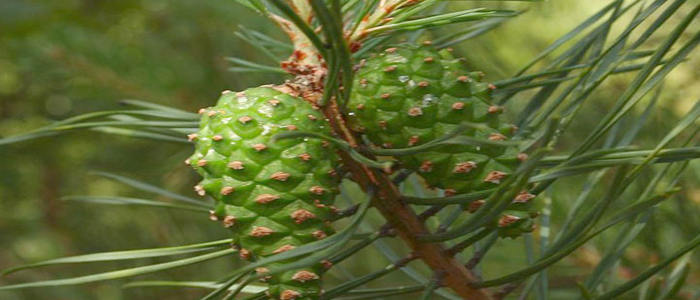 Pines are treated as the foremost commercial trees in the world. The pine fruits are extensively imported and exported worldwide. Pine tree served resins that are used for making oil if turpentine and rosin. The pine oil is greatly valued for medicinal properties that can effectively cure several maladies.

Pines: Description
Pines are mainly cultivated in European countries like Hungary, USA, Russia and Finland. Pines trees can easily identified with its straight, cylindrical trunks having no branches. The trunk is used for furniture as it makes a great saw timber. The pine timber is known for its strength and high quality. The timbers are largely used for furniture and construction works.

Pine timber has been used for several ages. Ancient boats were made by scot pines. Also Egyptians used to east kernel of pine fruit along with several dishes. You will be surprised to know that pine, in American Indian was used to prevent scurvy.

Pine oil contains following properties: Anti-fungal, anti-infectious, antimicrobial, antineuralgic, antirheumatic, antiscorbutic, antiseptic (pulmonary, urinary, hepatic), antiviral, bactericidal, balsamic, cholagogue, choleretic, deodorant, depurative, diuretic, expectorant, hypertensive, insecticidal, pectoral, restorative, rubefacient, stimulant (adrenal cortex, circulatory, nervous), and vermifuge.

Pines: Uses and Benefits
Pine oil is mainly used for adding fragrance in soaps, cosmetics, detergents, perfumes and bathing toiletries. It has also been found effective in curing several maladies like:
Arthritis,
asthma,
bronchitis
catarrh,
Cellulite
colds,
coughs,
cuts,
cystitis,
excessive perspiration,
fatigue,
flu,
general debility,
gout,
lice,
mental exhaustion,
muscular aches and pains,
nervous exhaustion and stress related conditions
neuralgia,
poor circulation,
rheumatism,
scabies,
sinusitis,
sore throat,
sores,
and urinary infection.
You can use pine oil along with followings:
Bergamot, cedar wood, sandalwood, tea tree, , celery sage, cypress, raven Sara, rosemary, sage eucalyptus (all), frankincense, grapefruit, juniper, lavender, lemon, marjoram, neroli, peppermint, and thyme linalol.

Caution
Pine oil is Non-toxic, non-irritant (except in concentration), hence can cause sensitization if left undiluted. People having skin allergies and pregnant women must avoid the pine oil.