Botanical Name: Zanthozylum armathum
Family Name: Zanthozylum
Common Name: Tomar seed oil, Toothache tree, prickly ash, suterberry, yellow wood, tumbru, darmar, tumru, timroo, tejphal and mukthrubi
Part used: Seed
Specific Gravity: 0.880 to 0.955
Refractive Index: 1.465 to 1.510
Optical Rotation: +40 to +150
Blends well with: Tomar seed oil blends well all carrier oils like coconut oil etc.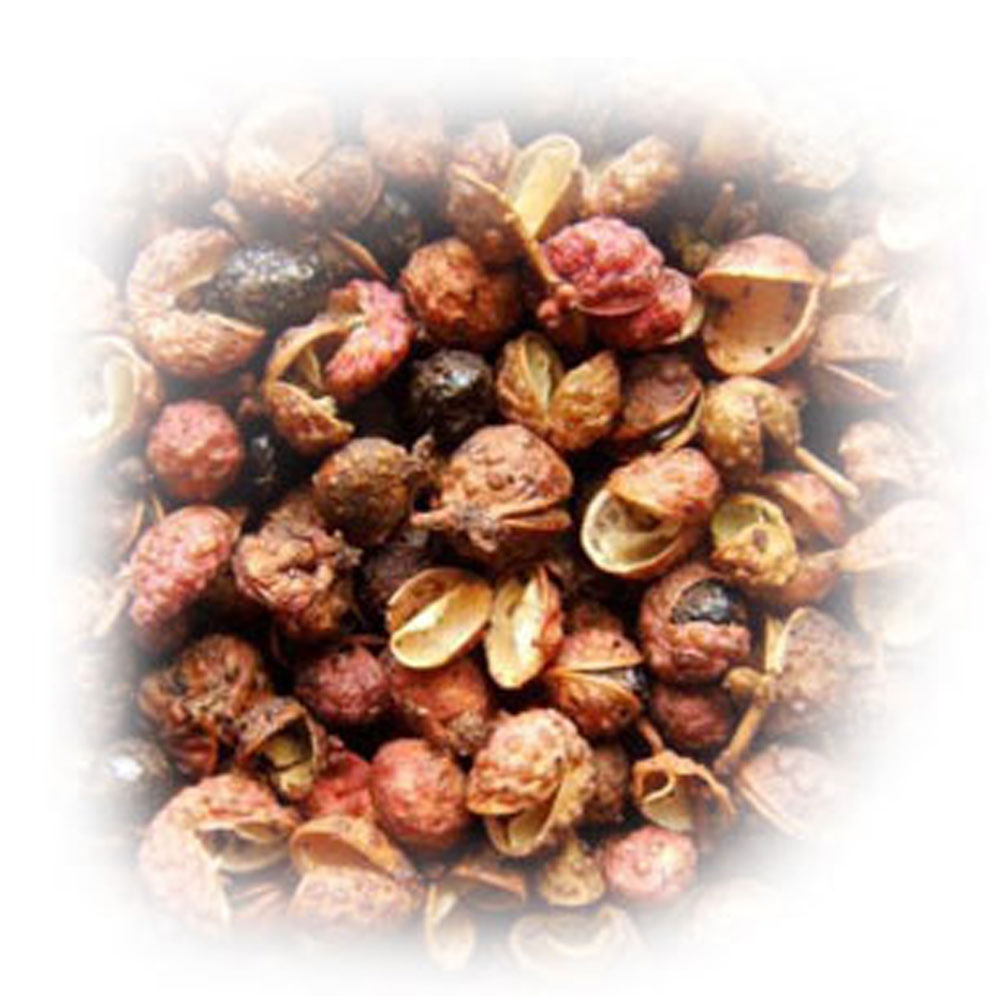 Uses:
Tomar seed oil is used in natural perfumery and very effectively in apothecary perfumes, wood-floral compositions, incense perfumes, colognes, forest notes, high class floral etc. It is used in tobacco industries and aromatherapy also. The seeds and barks are used for the treatment of fever, cholera and dyspepsia as an aromatic tonic. The fruits, branches and thorns are said to be carminative and stomachic and often used for relieving toothache. In the Ayurvedic system of medicine, Tomar seeds are used for treating many health conditions including oral problems and the tree is often referred to as Toothache tree. This is in practice even in today's world. It has antiseptic and odor fighting potential and many of the toothpaste manufacturers use this as an ingredient in their toothpastes.
Countries where it is found: India, China and Nepal
History of Plant:
Tomar seed oil has a spicy, warm, woody, rich, peppery and floral aroma and has been used by human beings since the pre-historic period.
Extraction Process: Steam Distilled
Commonly Known Benefits:
Tomar tree oil is used by various communities across the globe. Some people use it for medicine, food and even barter. The tree is said to have religious and magical powers and every part of the tree like fruits, stem, bark and leaves are used for different purposes. The decoction from the bark or fruits or seeds is used for treating cholera, fever and many other diseases. It is used as spices, condiments, medicine and flavoring agents for soups and other conventional dishes. It is used for the treatment of cough, stomach ache, common cold, fever and toothache. The fruits and leaves are used as emmenagogue, astringent and carminative also. In Ayurveda, Tomar is known as tumburu or gandhalu and the oil extracted from the seed of this tree is said to have healing properties like antiseptic, hepatoprotective, disinfectant, deodorant, anthelmintic and carminative. Tomar seed oil contains phenolic compounds and has antioxidant property to exhibit hepatoprotective action. Tomar seed oil is a natural insecticide and has anti fungal properties against 24 different fungi. It is a good repellant of mosquitoes and an alternative to many chemical larvicides. The oil provide warmness to the human body and is good for treatment like rheumatism, bronchitis, asthma, indigestion, varicose veins etc. It is good for treating cardiovascular, respiratory and gastrointestinal disorders. Tomar seed oil blended with carrier oils like coconut oil is good for the treatment of fibrositis, leg cramps, and many skin disorders. It promotes blood circulation and stimulates the mucous membranes and lymphatic system. It is better to avoid using during pregnancy. It is better to avoid using on sensitive skin because it can cause sensitization in some individuals.
These statements have not been evaluated by the Food and Drug Administration. This product is not intended to diagnose, treat, cure, or prevent disease.