Valerian root Oil
Valerian is an effective nervine that has carminative, stimulating and antispasmodic properties.
Valerian is a member of botanical plant. Since the Medieval times it is treated as honored herb which is known as "heal of all". For few people Valerian has a bitter fragrance as it smells like dirty socks but to form a pleasing smell it is mixed with the other oil to make it useable. As too much oil can dumb senses, it is advisable to use small amount at the time. In present times, the oil is widely produced by Belgium, Croatia, and France. The oil acquired by steam distillation of the roots of the plant.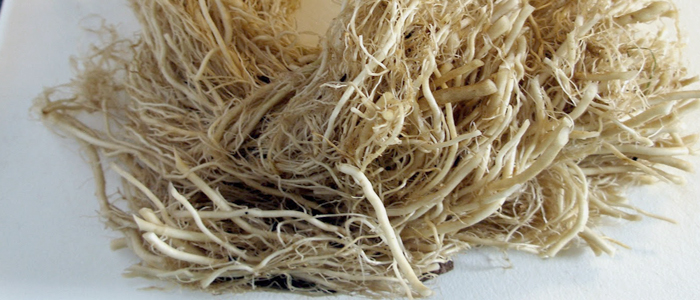 Initially roots blend in compact, erect rhizome or conical root-stock, the development persuade from several years earlier a flowering stem shipped as this horizontal branches finished in buds are given off earlier, and from these buds new antenna shots or stolons, through which new plants takes shape where they take roots. From that root one stem gains the height of 3 or 4 feet.
It looks like round, but from particularly near the base it found hollow and grooved, more or less hairy. Two or more pairs of flowering stems terminate and these each pairs set at right angels on above and below it. The lower flowering stems lengthen set their flower almost or much quite on a level with flower on the held at the upper branches, shaping a flattened or thick bunch at the peak, called a cyme. The leaves are organized in pairs and combined at the base.
The leaflets are variant in numbers from six to ten pairs and also variable in breadth, though few in numbers they are comprehensive and thinner when more in numerous; commonly they are 2 or 3 inches long. Its borders are indented by some coarsely-cut teeth. Its above ground is strongly veined, and lower ground is weaker and frequently more or less covered with short and soft hairs. The leaves on the stem are connected with short, thick sheaths, the radical leaves are bigger and the borders are more toothed and long-stemmed.
Valerian root extract generally use for sleep aid and as it is one of the common herbal remedies. Even so, about its safe usage and effect there always been debate. After lots of research on this specific herb and with some new studies put forth some light on how effectively it work and what you can anticipate on it.
Valerian can be called by some of its folk names: Amantilla, Fragrant Valerian, St. George's Herb, English Valerian, Set Well, Capon's Trailer, Sets Wale, Cat's Valerian, Phu, Bloody Butcher, All-Heal and Vandal Root.
Some of it main parts like roots, rhizomes (underground stems) and stolons (horizontal stems) are useful for medical usage and its dried plants material mostly used in tablet and capsules, whereas dried roots quite a bit use for brews teas and tinctures.
Valerian extracts is beneficial for brain to raise sleep and composed the body system. Nevertheless it can be profitable in other areas, as to remove anxiety; stress and other related issues study on it also support this traditional herb.