Vanilla Beans Oil
Botanical Name: Vanilla planifolia
Also known as- Vanilla planifolia, Vanilla, Sweet Bean, and Vanilla Pods.
Common Methods of Extraction: Solvent extracted
Note Classification: Base
Parts Used: 'Cured' vanilla beans
Aroma: balsamic, vanilla-like, rich, sweet,
Largest Producing Countries: Madagascar and Mexico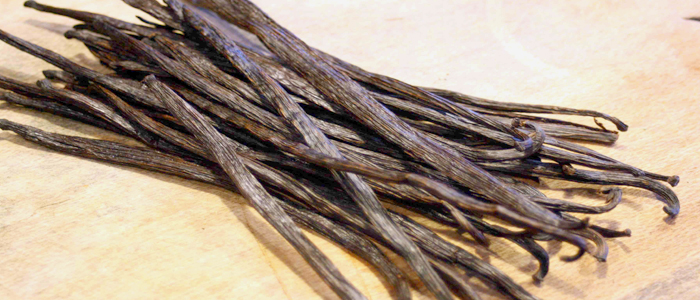 Vanilla does not need any introduction as is the most favorite flavor for sweet dishes. Vanilla ice-creams and desserts are liked and consumed worldwide. Its unique and lavishing fragrance is simply incomparable. Vanilla perfumes, food products and there are galore of forms of uses of Vanilla.
Vanilla details
Vanilla is actually derived from the ripened fruit of Vanilla Planifolia which is a tropical orchard. Vanilla tree in its natural habitat grows up to height more than 80 feet. Vanilla tree needs aerial vines to grow and is the only variety orchid to produce edible fruits. The grown up plant yields pods that may resemble you with bean pods. These pods are up to 6-9 inches in length. The pods having ripened fruits are used to produce vanilla spice.
Uses
Vanilla is used in several forms for different purposes. Perfumes especially oriental ones are made by vanilla extracts. Several cosmetics like lotions, gels are also made by vanilla. The most common use of vanilla extracts can be as the food flavoring. It is added to sweet dishes, juices, desserts and so on.
Vanilla has medicinal effects as well as it can improve digestion and appetite.
Blending Oils
You can make innovative uses of vanilla by blending following oils: rose, sandalwood, vetiver, opopanax, orange, patchouli, jasmine, lemon, Balsams, benzoin, bergamot frankincense ylang ylang and mandarin.