Semi solid state Amazing Aroma and Taste
The oil helps balance hormones in a very natural way. Vanilla is a native species of the Orchidaceae family. Vaina meaning 'little pod' is the Spanish word for Vanilla. In the early 16th century, when explorers from Spain arrived on Mexico's Gulf Coast they gave it the name Vanilla. Vanilla is a creeper that climbs up a structure or tree and grow very high as long as it gets support. The first to cultivate Vanilla were Mexico's Totonac people who lived on the eastern coast. Then in the 1520s vanilla was introduced in the European Region. For three centuries, the leading producer of Vanilla is Mexico. Proper flavor of the Vanilla plant flowers is possible with pollination. Hand pollution methods are best being followed these days so that vanilla creeper can be cultivated all across the globe. After saffron the most expensive spice is Vanilla as the work involved in growing seed pods of the creeper is very labor intensive. Though it is native to Mexico it is grown in tropical regions widely. Other large producers of Vannila in the world are Madagascar and Indonesia. For years, vanilla oil has been used by women and men experienced high blood pressure, anxiety and libido loss.

The red to black colored seed pods of Vannila contain tiny seeds filled with an oily liquid. The orchid looking yellowish beautiful vanilla flowers produce fruit that last for just 24 hours. Daily inspection is necessary by growers of Vanilla creeper. When the fruit ripens it opens, crystallization of compounds takes place after which a distinctive vanilla fragrance is released. Both seeds and pods of the creeper are used for culinary purposes. Studies indicate that over 200 compounds are contained in Vanilla beans. Depending upon where harvesting of beans is done, concentration of the compounds will vary.

Scientific name of the creeper Vanilla plant is Vanilla Planifolia. Beans of the creeper contain components including Vanillin Hydroxybenzaldehyde, Furfural, Acetic Acid, Isobutyric Acid and Eugenol are used for obtaining Vanilla CO2 Extract. The beans are first fermented and then used in the extraction process.

Extraction Method
Vanilla Essential Oil is obtained by the SCFE Co2 extraction method. Processed vanilla beans are used to obtain a resinous substance by the High Pressure Liquid Co2 extraction method. The top grade Vanilla CO2 Extract contains vanillin in highest percentage. Hence it is important to always select a reliable and repute dealer offering Vanilla Extract with highest vanillin content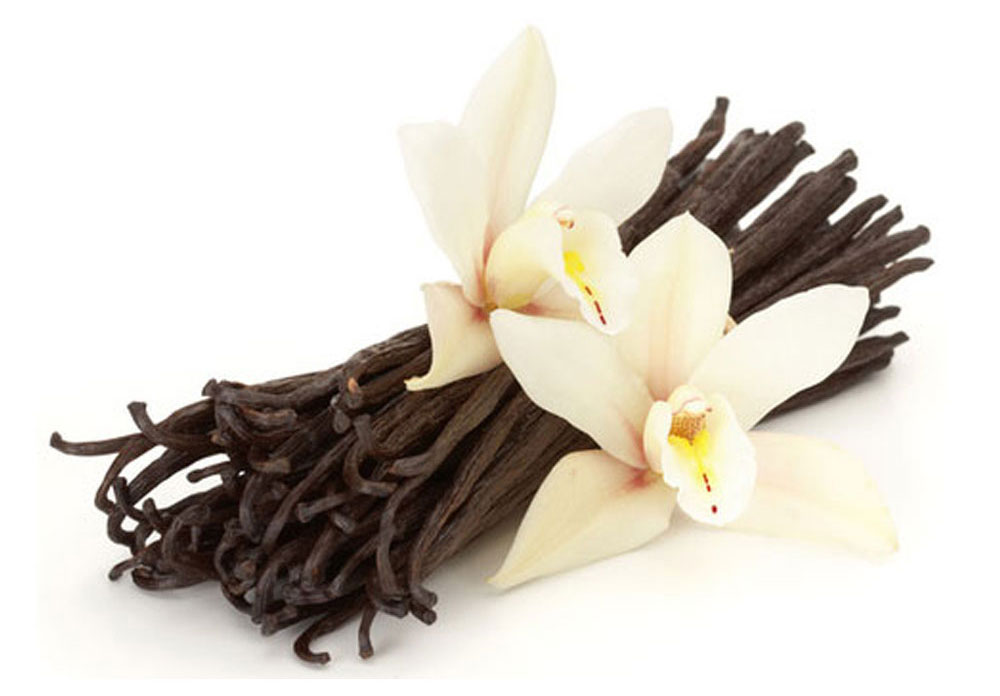 Chemical Properties
Chemical properties of Vanilla CO2 Extract mainly contains Vanillin 12%.

Blending Abilities
Vanilla CO2 extract is only soluble in carrier oils.
Benefits
Vanilla Co2 Extracted works as an oxidant to neutralize free radicals or oxidizers that cause oxidation of tissues and living cells, prevents wear and tear of the body and also prevents burn up and death tissues and cells. It strengthens DNA structure to help destroy cancerous cells and immune system of the body. It prevents malfunctioning of the nervous system, treat memory loss, prevent gradual hearing and vision loss, macular generation and instability of the mind. It repairs damage done to body and stimulates healing and repair due to its antioxidant properties.

As a sedative the product soothes the human body in many ways. Hyperactivity and inflammation in the body are soothed including excretory, respiratory, nervous, digestive and circulatory systems, reduces hypersensitivity towards allergens, stress, anxiety and convulsions.

As an aphrodisiac Vanilla Oil helps in treating people suffering from libido loss, impotence, frigidity and erectile dysfunction, promotes sexual arousal, brings in normal behavior about sex and stimulates secretion of estrogen and testosterone.

Vanilla CO2 extract has anti carcinogenic properties to curb cancerous cell growth, slow down, prevent and cure cancer with the help of certain components in it. As an excellent febrifuge it reduces fevers effectively. Infection is treated with components like Vanillin Hydroxybenzaldehyde and Eugenol contained in it.

As a relaxant it calms nerves and brains to provide relief from restlessness, anger and anxiety. This oil having antidepressant properties helps eliminate depression, lift up spirits and in the process bring in a feeling of better mood. Aroma of the oil is so powerful that it starts making the person feel satisfied and pleased within no time.

Vanilla Oil has tranquilling properties to help to help get good sleep, lower blood pressure and relax.

Other Benefits

Other benefits of the oil include regularizing menstruation and activating the estrogen hormone. It is widely used in perfume manufacture, domestic as well as commercial baking. Vanilla is popularly used industries producing soft drinks, mouth watering ice creams, confectioneries, chocolates, biscuits, cakes, custards and pastries. Besides being used as an agent to flavor beverages, organic food items, in culinary purposes, it is also used in the medical world and pharmaceutical industries.
These statements have not been evaluated by the Food and Drug Administration. This product is not intended to diagnose, treat, cure, or prevent disease.