Origin
Botanical name of Vetiver is Chrysopogen Zizanioides. It belongs to the Gramineae family and is derived mainly from root of Vetiver Grass. Origin of Vetiver is seen in Southern parts of India. Steam distillation process is used to get Vetiver CO2 Extract from the roots. The dark brown oil with thick consistency has a spicy, earthy, herbaceous, smoky and musty aroma.

Vetiver Essential Oil was discovered first as useful oil or its benefits in physical healing. In aromatherapy it is used for its wide array of spiritual and emotional benefits. In treating different bodily and skin conditions Vetiver has been used remedy since ancient times.

In ancient medicine in China, Vetiver CO2 Extract has been used to clear heated energies and purity energy field of the individual. It helps focus on present moments, boosts intuition, centers one's thoughts and eases the mind, helps with feelings of isolation from people, boosts self esteem, cleanses feelings of negativity, helps recognize inner wisdom and assists meditation.

Extraction Method

Distillation Extraction method is used to extract quality Vetiver Essential Oil. In the steam distillation process, water portion is removed to attain quality oil. Depending upon quality and amount of Vetiver roots used different volume of Vetiver Essential oil is obtained during the distillation process. Chemical properties of quality Vetiver CO2 Extract are always better.

Blending Abilities

Vetiver CO2 Extract blends well with Ylang Ylang, Bergamot, Sandalwood, Bulgarian Rose, Rosewood, Cedarwood, Patchouli, Jasmine, Clary Sage, Melissa, Geranium, Mandarin, Ginger, Lemon and Lavender Helichrysum. This oil is charged with intent to nurture the body, uplift spirits of the individual and ground the mind. Other carrier oils it can be best blended with are Grapeseed, watermelon and Argan and then put into use.

Potential of the oil improves or amplifies best when mixed with a carrier oil. The oil can be mixed with Ylang Ylang for aphrodisiac effects, with Lavender to calm and relax tensed nerves and with Sweet Orange for circulatory and cardiovascular health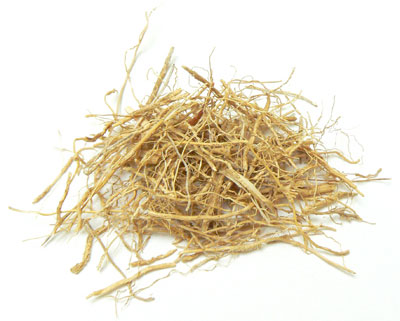 Benefits
Skin conditions like inflammation, acne, eczema besides headache, joint inflammation, heart stroke, fevers and arthritis are also treated with Vetiver Essential Oil. In oriental medication during ancient times the oil is known to have cooling and calming energy. Heated energy from a particular body area and from the body is easy to clear by administering Vetiver CO2 Extract treatment. The oil helps uplift emotions and has calming effect on body and mind. In balancing root and crown chakras, both, this oil works in an excellent manner. A hyperactive mind is easy to ground and calm with Vetiver Oil. An insecure mind can be nurtured as well by administering this oil.

Commonly, Vetiver CO2 Extract is used as a sedative. Depression, nervous tension, insomnia, anxiety, restlessness, anger and anxiety are best released with Vetiver Essential oil treatment. Besides this it also releases and calms the mind and helps cope with stress and fear. In treating sexual disorders, lack of libido, impotence and frigidity, arousing right emotions at the right moments and stimulating the brain, the oil works efficiently as an excellent aphrodisiac.

Vetiver CO2 Extract is known for its antiseptic and cicatrizing properties. It forms new tissues in skin to heal wounds and burns, inhibits microbial growth on infected body area and reduces stretch marks, dark spots due to its cicatrizing properties. As an antiseptic it helps reduce dryness, hydrates and moistens cracking skin. It is very nourishing to use on sensitive areas and skin.

Very wonderfully it helps get rid of disorders like lack of control over limbs, hysteria, Parkinson's disease and epilepsy. This excellent tonic boosts and heals body system for circulatory, digestion, excretory, respiratory and neurotic purposes. In order to maintain excellent strength, health, rejuvenation and immunity, menstrual cramps, heal pains and aches, Vetiver Essential Oil proves to be the best choice.

Aroma therapeutic Use

In aromatherapy it is used to provide relief during nervousness to soothe overworked nerves and calm them in the process. It supports healthy circulation and functioning of the endocrine and respiratory system.

A diffusor or spray bottle can also be used for Vetiver Oil therapy. Add around 8 to 10 drops of the oil into the diffusor or spray bottle and use it as per instructions of the manufacturer. Vetiver CO2 Extract makes and excellent deodorizer for rooms. Add around 10 drops to distilled water and spray around the room as desired. A roll-on can also be made apply the oil topically over the skin. Ensure to dilute the oil with a suitable carrier oil and they use for topical application
These statements have not been evaluated by the Food and Drug Administration. This product is not intended to diagnose, treat, cure, or prevent disease.