Quick Facts
Botanical Name: Citrullus vulgaris
Common Name: Watermelon Seed, Matsum and Nakai, Kalahari oil, Ootanga oil
Part used: Seed
Specific Gravity: 0.9197 at 25 degrees
Optical Rotation: +70 to +80
Refractive Index: 1.470 – 1.480 @ 20 °C
Blends well with: Moringa oil, lemon grass oil
Uses: This oil is highly used in facial lotions and creams.
It is also a good oil for the hair.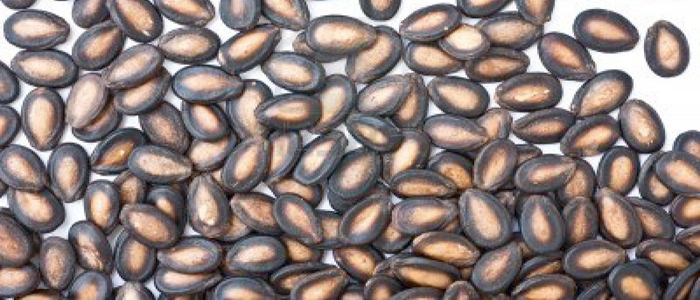 Countries where it's found
Native to Kalahari Desert of Africa, the watermelon seed oil is also named as Kalahari Oil and Ootanga Oil. Watermelon was first harvested in Egypt and then moved to Mediterranean region, India and China. China is the world's largest producer of watermelons.
Harvesting Information
Watermelon grows in a sunny weather maximum temperature being between 70 to 80 F and 20 to 25°C. Extreme humid and hot weather doesn't suit the growth of Watermelon. A complete three months of sunny weather helps to grow and ripen the watermelon. Once the watermelon ripens it's easy to take the seed for the commercial purpose.
History of the Plant
The cultivation of watermelon dates back to the Egypt and then moved to the warmer Mediterranean areas. Watermelon seeds were placed in the tomb of the kings in Egypt as a belief that it will nurture their body afterlife.
Extraction Process
The Watermelon seeds which are yellow in colour should be taken out from the fruit and dried. The seed should have around 10 percent moisture to get high oil yield. The Watermelon Seed Oil can be extracted in many methods such as Oil Expellers, Cold pressing, Solvent Extractors etc.
In oil Expeller method the seed is crushed using a rotating screw in a horizontal cylinder and as a result the oil flows through a small hole.
The cold pressed method is used to maintain the highest amount of nutrients. The cold pressed method is similar to the expeller method but it should maintain temperature below 120° F.
The Solvent extraction method uses some solvent to extract oil from the seed at a high temperature. This method is used commercially for high production and stable or indefinite shell life.
Commonly know Benefits
Baby Oil: Watermelon Seed Oil is used mostly in baby products like cream, lotion etc. This oil keeps the pores open thus helping the skin to sweat out the toxins and avoids any skin infection.
Cleanser: The oil is has content of linoleic acid and omega 6 which removes the excess sebum from the skin and helps in maintaining a cleaner and fresher skin.
Moisturizer: Watermelon seed oil has content of fatty acid and is highly absorbent, thus used in different skin care products by the skin care companies. This can be used by people with dry and greasy skin to maintain healthy and acne free skin.
Hair oil: Due to fatty acid content in the oil, it has water soluble and penetrative properties. Thus this oil penetrates deeply and moisturizes the hair living it looking healthy and glowing.
Aromatherapy: Watermelon seed oil is light, non-greasy and has a nutty fragrance. This oil soothes the nerves and body and rejuvenates the senses and provides relief from stress. Its message is also helpful for the treatment of depression patients.
Watermelon Seed oil is natural being no chemical added, thus it will not have any side effect on skin and hair.
These statements have not been evaluated by the Food and Drug Administration. This product is not intended to diagnose, treat, cure, or prevent disease.