Watermelon Seed Essential Oil
Botanical Name: Citrullus Vulgaris
Family: N.O. Cucurbitacea
Parts Used: Juice, Seeds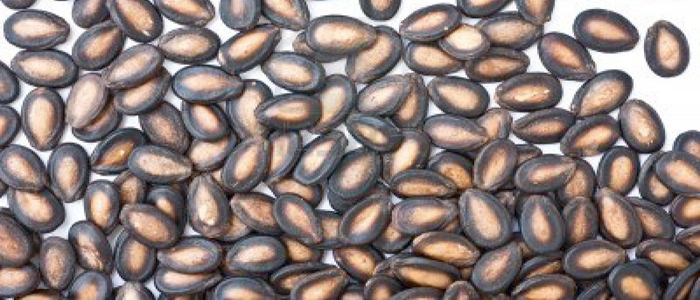 Melons are one of the prominent fruits grown and cultivated in Central Asia. Country like Egypt and Palestine extensively farm water melons. Basically Water Melons are originated from East Indies and tropical parts of Africa.
Water Melon: Description
Water melon tree is pretty tall and the fruits may weigh up to 30 pounds. The best thing about the water melon fruit is that it supplies food and water both at a time. Its juice pulp is very tasty and acts as the best substitute of natural drinks and food in these dry conditions. The water melon fruit varies in shape and color. The seeds are black/ reddish spread in the pulp. The pulp is again reddish filled with juice.
Water Melon: Cultivations
Water Melon is fruit of dry states and that is why mostly and naturally grows in these areas. Kalahari Deserts, the banks of Nile are some of the best locations to get the water melon.
Water Melon: Uses and Medical Benefits
There cannot be any other refreshing food and drink than water melon. Water Melon is really refreshing and rejuvenating in the summers. You can take the juice along with some sugar and rosewater as well. The seeds of water melon are very useful. They can be used in curing disease like strangury, urinary problems, and diuretic problems and so on. One of the most famous use of water melon is carried by Russian farmers who use it against dropsy, intestinal catarrh and hepatic congestion.